Shrey Sawant/Hauterfly
Fashion
I Longingly Stare At The Clothes Hanging In My Closet And Think…When Will I Wear You Again?
By
|
The way that I have been sleeping lately, spread clumsily across one side of my bed like a star fish, while the other side is filled with clothes I am yet to arrange in my closet (a chore I have been procrastinating since the beginning of this lockdown), I feel like I should get an award for simply making it out of bed. Today I finally mustered enough courage to get up and do what I had been avoiding for the longest time. And no, by that I don't mean rearranging the clothes on my bed back into my closet (wouldn't give that satisfaction to my mother right away), but to just stand face to face with the clothes already hanging in my wardrobe and have a heart to heart. After all, they come right next in the list of 'things neglected during this quarantine', after my boyfriend.
You see, I didn't mean for any of this to happen. The virus outbreak, sudden situation of a lockdown, feeling cornered by all of my summer-spring clothes that were taken out with the hopes of contributing to a 'lit' summer, have now only been collecting dust for the past two months. And so, with a heavy heart and a heavier, flowing closet, I stood before all of my clothes, staring at them helplessly, wondering if I will even get to wear them again. In 2020, that is.
With the lockdown inevitably stretching every two weeks, the hope for stepping out in couture turns bleak, and I am saddened with the thought of just how much I miss dressing up. Like every girl, who plans her night outs, major events and celebrations based on what she is going to wear, I see my dresses, bralettes, pants turning into mere showpieces in these unreal times.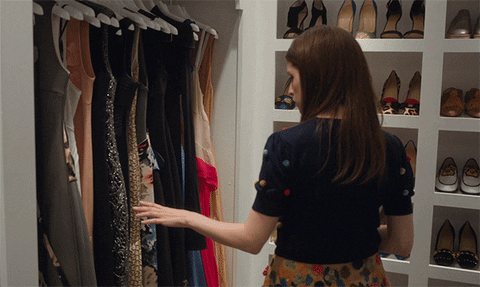 With the precautions of wearing a mask and gloves at all times turning into life hacks and the only fashion rules you need to swear by to survive during these times, I wonder if I'd even get a chance to slip into something sexier than my pyjamas. Utilising the night-suit and work-out wear section of my closet like never before, as I learn to get comfortable in the joggers and find my respite in my brother's over sized tee, there are times when I try to recollect the feeling of denim against my skin.
I won't lie, there are nights when I get nightmares about my favourite white shirt, teaming up with all my skirts and pants abandoning me and running off into the wild. But then I wake up, and it is still 2020 and even though my clothes are all still stacked in, my sanity and vanity sure are on the run now. Who would've thought, that for someone who couldn't wait to come back home only to take off her tight jeans and suffocating bra and relax in the comfort of her nightgown, would, just 8 weeks into this quarantine,  now be fed up of all of this? Now that I think back to the times I cried when I had to squeeze my feet into high heels and pour my body into fancy dresses, I regret not enjoying them a little more than I should have. I feel bad for not showing more gratitude to all those beautiful tops falling out of closet, that I kept aside for 'something special'. Clearly, this isn't that something. Quite the opposite, in fact.
'One of these days, I will give you all the justice you so deserve', I tell my clothes, as I ironically slip into my second set of PJs for the day. Because until that day arrives, this is all I have!
GET HAUTERFLY IN YOUR INBOX!