Chingsanghoih Guite / The Hauterfly
Culture
Missing Garba This Navratri? Watch Chogada Ft. Friends, HIMYM, The Office, Schitt's Creek, Brooklyn Nine Nine For Major FEELS!
In case the byline wasn't an obvious indication, I'm Gujarati. And I cannot BEGIN to tell you how much I am missing playing garba during Navratri this year. Every single night, my garba friends (yep, that's a legit friend group) collectively dream of Coronavirus as a corporeal entity. Just so we can viciously murder it for depriving us of our annual Gujju Sunburn. Kain kain thaaye, Anjali, tu nahi hamje. We watched Falguni Pathak, our favourite human during this season, get emotional on video because she wouldn't be singing to a choc-a-block crowd this year. All those restaurants outside garba venues that felt like Mukesh Ambani during these nine nights are feeling like Nirav Modi right now. Nobody is asking for pass nu setting FFS! F you Corona. *Plays Chogada sad version*
Anyhoo, our only sahara during this Navratri has been the sitcoms that we binge at night to fill the void that garba has left. And like true friends who promised they'll be there for us, they really came through. Someone edited clips from a bunch of our favourite sitcoms and set them to 'Chogada' from Loveyatri. And I don't have words to express the FEELS that came rushing in. It was a lot like….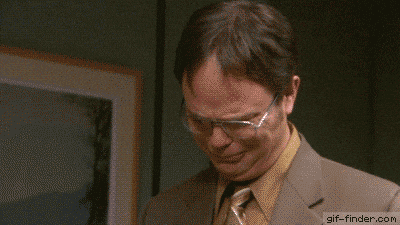 Navratri feat. your favourite moments from American sitcoms!
The video, spotted on @bingefactorybf, has scenes from The Office, Friends, How I Met Your Mother (HIMYM), Brooklyn Nine Nine and Schitt's Creek, where the cast is dancing, playing music or singing, set perfectly to 'Chogada'. And if you've been missing Navratri as much as I have, this is going to make you cry and laugh. Just like these sitcoms normally do. They're pros!
We've got Ross Geller and Jake Peralta playing the bagpipes, Joey on the drums, the HIMYM cast on vocals, Michael Scott, Dwight Schrute, Terry and Captain Holt doing synchronised dance routines! Barney and Robin are that couple who do couple's garba. And Jim and Pam are those cuties who glance at each other across the garba ground! The Roses from Schitt's Creek make an appearance too. Because you know when they were rich they never got the chance to celebrate Navratri together as a family. Now they can, and it's awesome! I bet Moira Rose also wins the Best Costume award all nine nights! There's clearly a tough competition for Best Couple because Ross and Monica's have their Unagi so synced when it comes to matching steps.
The solo prize could go to Michael Scott or Boyle, I can't pick. Because while Michael is going at it hard (That's what she said), Boyle is that dancer who comes up with innovative steps to fit into the song that's playing. Imagine a 'Single Ladies' version of 'popat', y'all!
This video just makes you go, "Awwww!" doesn't it? Team Hauterfly went super gaga over this one, considerably distracted by Navratri nostalgia (hey, it's real). In the words of Mansi Shah, our Managing Editor, "I have been missing Navratri this year and to see something like this kind of made my day. It's funny, it's very Gujju and it's very well made. I am entertained and I am here for it. Falguni Pathak should see this because this year could use some cheer."
Thanks to the guys who made this! Le me right now…
*Puts Chogada on and says Aye Haaaalo!*
GET HAUTERFLY IN YOUR INBOX!