Shrey Sawant / The Hauterfly
Culture
EXCLUSIVE! Aparna Shewakramani On Indian Matchmaking, The Sexism Debate And Why 'Stubborn' Is Actually A Compliment
By
|
My friends and coworkers can tell you how obsessed I am with Netflix's Indian Matchmaking. For starters, contrary to popular sentiment, I thought the show was perfectly satirical in making a point about sexism, casteism, colourism and other issues rampant in arranged marriages in India. It had some pretty interesting characters as well, (Sima Auntie!) that got you immediately invested in (Nadia, Vyasar, Rupam) which is so important. And finally, it gave us an incredible amount of meme fodder. I am talking memes, gifs, WhatsApp stickers and sketches from influencers and comedians that are all quality content, so hilarious that even Aparna Shewakramani, who famously proclaimed she hated comedy, loved it.
For me, Aparna was an instant favourite, despite how she was portrayed in the show in the initial episodes. I could easily relate to how independent and sure she was of what she wanted from her life partner. In fact, I think a lot of that comes with age and experience, of knowing who you are before trying to fit into someone else's idea of an 'ideal life partner'. I loved her dressing style, the confidence with which she stuck to her point in the face of Sima Auntie's insistence that she compromises. Even her idea of travel- exploring and having an itinerary of experiences, resonated with me, because I am totally that person!
All in all, I saw in Aparna and her story a lot of what I was going through in my search for a life partner. The same taunts, the same issues of being too overqualified (I am a part-lawyer too!),  independent and content with her life; the same ticking clock thrust in my face; and the same need to be with someone who'd love me for me.
So when I got the chance to speak to her and get to know Aparna minus the camera and judgement, it felt like a match made in expectation heaven!
Speaking exclusively to us, straight from Houston, USA, Aparna Shewakramani talked about her experience on Indian Matchmaking, the conversations that it has boosted around sexism, colourism and regressive practices in arranged marriages. And, of course, how 'knowing Bolivian Salt Flats' wasn't her actual criteria!
Check it out!
On her experiences while shooting Indian Matchmaking…
Q: What was the appeal of being on Indian Matchmaking?
A: For me, it was another avenue to meet someone. I was on dating apps, being set up by friends and family and meeting people organically but none of it was working. This was a different way I was willing to try in my search for Mr Right.
Q: The show focused primarily on the Indian diaspora in the United States. Why do you think NRIs are so receptive to something as traditional as matchmaking and arranged marriages when it sees so much resistance from the Indian youth?
A: I can only speak for myself. But for me, it was an efficient and original 'new' way to try to meet someone I would have never ordinarily met. I am still very close friends with Shekar, Dilip and Jay—even though we didn't have relationship potential, they are wonderful that I only met because of this process.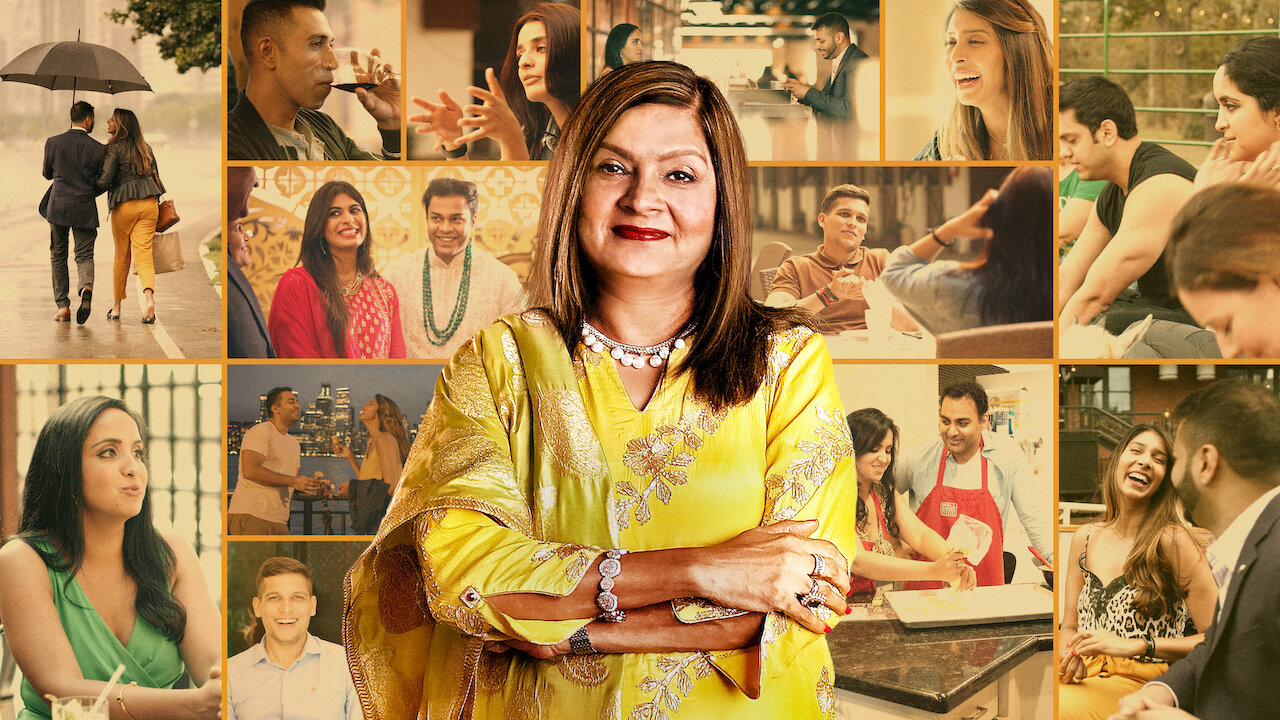 I can vouch for this to be true! Much like dating apps, matrimonial matchmaking has introduced me to a bunch of guys who I may not have had dated but enjoy being social media buds with! What I admire, though, is that there was no awkwardness even after having their entire conversations scrutinised on camera!
Q: Was it weird having cameras follow you on your dates? Do you think the dates would've gone differently with those people, had y'all not been under the lens?
A: It's definitely a strange experience having 14-16 people follow you around on a date. But it gets much easier. At first, even the crew are strangers but as you get to know them and befriend them, you're so much more comfortable with them on your own dates. I do think the dates would have gone differently – a lot of the men were nervous on camera understandably. I took most of them out off-camera after we were done taping, so I could get to know them better without that pressure.
Ah! That explains it. To Sima Auntie and every other parent who thinks the first meeting should happen with the parents, you might want to reconsider. It can be too much pressure! Speaking of parents, though, people thought Aparna's mother wasn't too kind to Srini, the first guy her daughter met. I was curious to know how the Shewakramanis dealt with the audience reaction to that moment, and all the negative comments that have been coming in since Indian Matchmaking dropped on Netflix. Turns out, we didn't get the entire picture!
On the matchmaking process and Sima Taparia…
Q: A lot of people felt Srini's dismissal was a bit too harsh. Would you like to clear the air?
A: My mother's choice words and my decision to "speak to him never" had nothing to do with his career choice or his profession and had everything to do with the way he disrespected me off-camera. The viewers did not get to see a lot of things that happened off-camera with Srini. I did, in fact, take him out after the axe-throwing and spent over 3-4 hours with him. What they would have seen (had it not been edited) was me explaining to Sima and my family the next day that I was very hurt and upset.
My mother was understandably protective, and I hope other mothers out there stick up for their daughters when they are treated badly.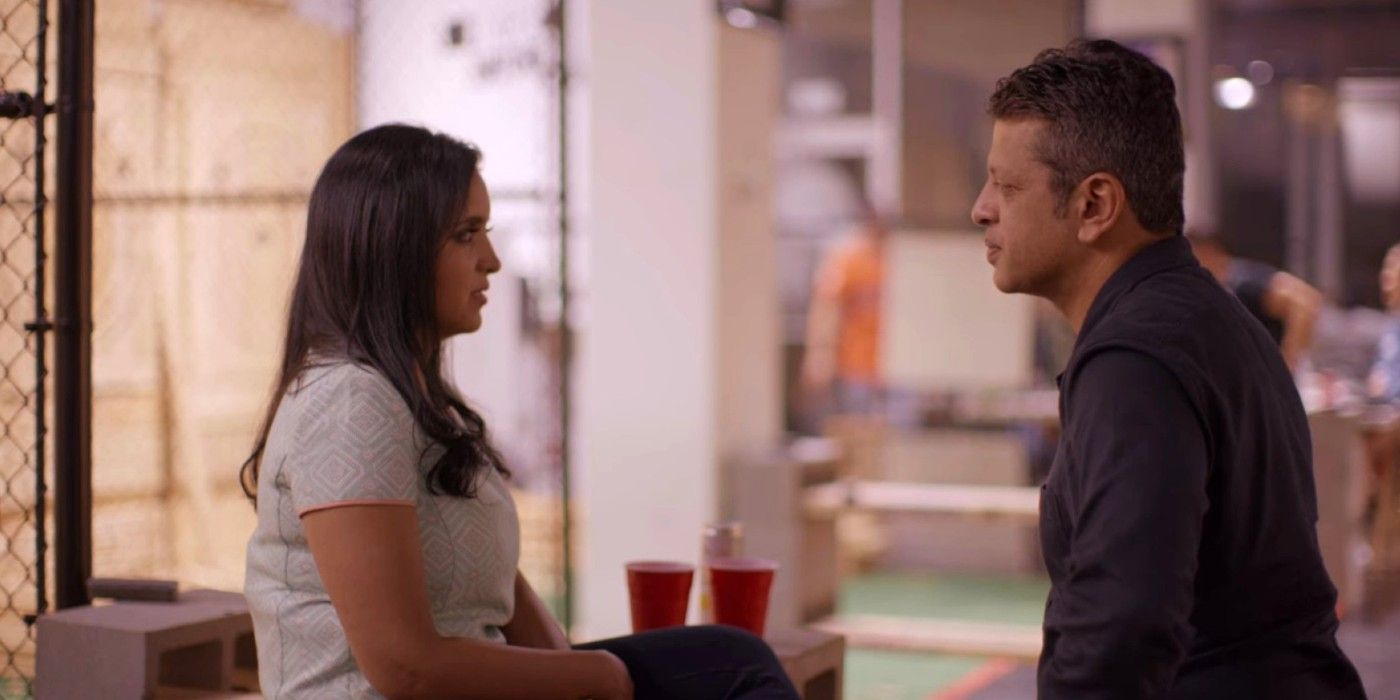 Q: How has your family taken the judgement/fame that's come with the popularity of Indian Matchmaking?
A: My family has followed my perspective on ignoring the negativity and focusing on all the positivity that's come from the show and its viewers. So many women have reached out from across the world to thank me for being unapologetically myself and for showing them that they too should ask for what they deserve and believe in their own worth that they deserve it.
Agreed, I am totally one of those women! While we got to see how Sima Auntie perceived Aparna as a difficult and stubborn person, it would've been interesting to know what Aparna thought of Sima Auntie's judgement and her notions about 'compromise' and 'astrology'.
Q: What was your first reaction to hearing Sima's comments about you and your criteria?
A: I was understandably hurt that she was so negative about my family and I when we welcomed here so warmly into our homes. However, that is her opinion and she is entitled to have one, of course.
Q: It was surprising for many to see that you were open to meeting an astrologer in the process. Do you believe in astrology and, as Sima Taparia would put it, in 'stars aligning'? Do you still listen to the Shani Mantra chant that was given to you?
A: I've had my birth chart read twice in the past and I was open to see if Dilip Uncle would say the same things as the other readers – and he did! I don't know if I believe in the practice though—I definitely take it with a grain of salt. I do not listen to the Shani mantra currently but I did for a few months after meeting him. I really saw it as all part of the bigger process of matchmaking.
On the judgement and public image that came with being on Indian Matchmaking…
In Aparna's interviews with other publications, she has spoken up about how Pradyuman was more unfairly judged than her, or that Akshay was misjudged by the audience. In the reunion episode that Netflix dropped some time ago, we got to see the cast in a whole new light, especially Aparna, Pradyuman and Akshay. It also indicated that the show, for the sake of dramatic flair and entertainment, might've crafted their stories in certain ways. Clearly, there was more to all these people, yes even Akshay's mom, than met the eye! Rest assured, the cast is actually friends with each other. They probably bond over all the memes, trolls and shared experiences like this!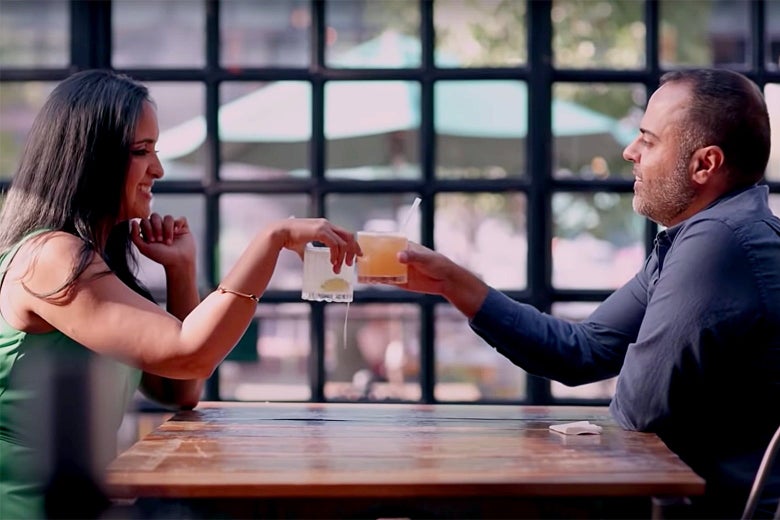 Q: Whose story, apart from yours, did you find most intriguing to watch, and why?
A: All of them! Every story was so unique and came with its own joys and pitfalls. I am lucky enough to know all my castmates now (even though we haven't met in COVID-19 times) and really relate so well to each one of them.
Speaking of intriguing, I, for one, totally got the sarcasm behind those criteria that flashed every time we met a new candidate. Aparna's appeared to be the funniest and loftiest one, and I was always curious to know what she actually wanted in her match!
Q: I'm not going to ask you the burning questions about Bolivian Salt Flats and hating comedy, because I see how these weren't as absolute or literal as they were depicted on the show! But I do want to know, what is Aparna's actual criteria for a life partner?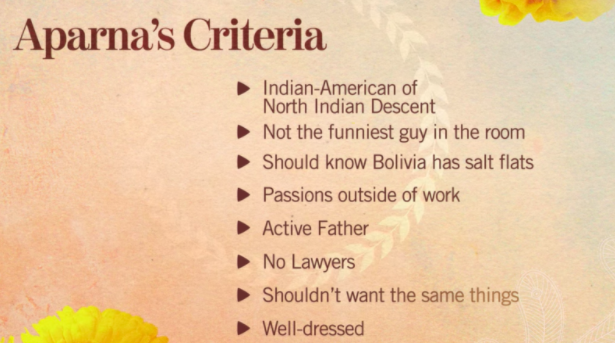 A: You're a smart viewer to pick up on the fact that my actual criteria were not shown! I actually asked for very specific things, and it's a short list: I would love for the guy to be laid back and more introverted. I would also love for him to be very intelligent—not just book smart but also interested in the world around him and always learning.
Come on, that seems fair, right?
Q: Did you think the show could've represented you, and the other cast members, better?
A: I think the show created careful archetypes that were not representative of full-rounded people for the very specific purpose of having the viewer learn and be entertained by Indian Matchmaking. It certainly achieved its goal—we are all still talking about it!
On the dialogue that Indian Matchmaking has opened up about regressive practices in arranged marriages in India…
Indeed, we are talking about it, and the conversation seems to be heading in the right direction.
Q: There's a debate raging on about how regressive the matchmaking process is, especially for women. After your own tryst with it, what change would you like to see?
A: I would love to see women actually listened to in the process and not quieted for the convenience or efficiency of the matchmaker or society. They should be the decision makers at the end of the day and their voice should be the loudest in the process.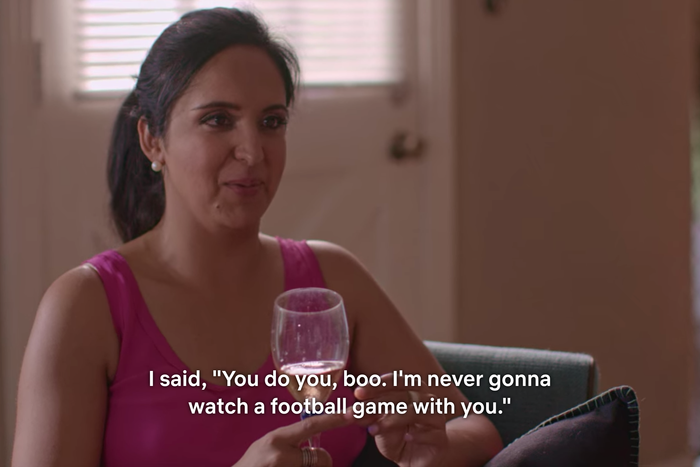 Q: What's the best and worst thing to come out of Indian Matchmaking for you?
A: There's nothing but good to come from this show! I am so grateful for all the support I have received from around the world. We have started some very important conversations about sexism, casteism and colourism and I do hope those continue so we can progress past these issues in the future. Until then, let's keep bringing it to the light! I am personally also excited to be working on a book about this experience and cant wait to share it with the world one day!
Oh, I'd totally read that!
On hating comedy, loving travel and some pretty good matchmaking advice…
I mean, I had to ask if she had seen all those memes! Turns out, when it's smart, relatable comedy (and about her), she's all for it!
Q: You've said that the memes and sketches coming out of the show have made you laugh. Any favourites?
A: I never realized my face had so many…expressions! I see disbelief, confusion, annoyance—all of them—in these memes and I can't stop laughing. I am so grateful to the fans for using their creativity to create this commentary on the show.
Q: I guess I am a lot like you when it comes to travel. There's so much to see and experience, I won't be relaxing! What has been the best travel experience you've had?
A: My best experience? That's so hard! I was very lucky to study onboard a cruise ship for 100 days in college. We travelled to 10 countries in 100 days and circumnavigated the whole globe. It was a beautiful and poignant way to understand just how small the world is and how connected we all are in our humanity.
Okay, that is so cool! Aparna also runs her own travel company, which explains why she doesn't find her work and life stressful enough to need a 10-day relaxing vacation on the beach, doing nothing! When you love what you do, it doesn't feel like work, does it?
Having spent so much time with Sima Taparia, meeting these guys, and even consulting with the stars (astrologers and face readers), I thought Aparna would have some advice of her own. Would she have some for me?
Q: As a 29-year-old unmarried Indian girl, I have also resigned myself to the matchmaking process. And I've gotten the same advice from people that you got from Sima—compromise, compromise, compromise! What advice would you give me if you were the matchmaker?
A: Be stubborn! And if they call you that, it should sound like a compliment! This is your life and you are picking a partner for yourself. Make a clear and thoughtful list of what you need in your partner and feel you deserve to wait until you find that person.
Touché, Aparna. Touché. To quote her to her, "You do you, boo!"
GET HAUTERFLY IN YOUR INBOX!