Chingsanghoih Guite/TheHauterfly
Relationships
Erect Nipples Don't Equal Sexual Arousal, Says Research. Men, Don't Read Her Signs Wrong
By
|
The initial few months of the pandemic were rough and our mental health status was a striking red most of the time. Now when I look back, I can clearly see the underlying anxiety issues that made my mental health rather delicate. As the restrictions eased and people started resuming financial and social activities (with precautions!), I am in a much better place. But in all this chaos of confinement at home, I found my silver lining in one thing that I terribly miss as the office is resumed – not having to wear a bra! Nipples poking through my tee? Who cares! At home, in your room, being bra-free is not judged or looked at in a perverse manner.
I am not sure if I walk around the city, or at work to be specific, my nipples poking out will be deemed appropriate. Women and comfort have a complicated relationship; we don't get enough dresses with pockets and our jeans have fake pockets, like wtf? We have to wear a bra in public and then the entire day we think about the moment we reach home and take it off.
Why women's nipples are sexualised so much? Yes, our nipples do get erect when we are horny but that's not the sole cause of nipple erection. What's with men looking at women with erect nipples and thinking, 'Oh, look she's horny!'? No, dumbfucks, she's probably cold!
Meanwhile, a recent study looked into the perceptions people have of women whose nipples are poking out. The study suggests that men perceive nipple erection in women as a sign of sexual arousal. Women, on the other hand, knew better. However, both genders did project positive emotions onto women with erect nips.
"While many women will tell you it is probably because they are cold, there is definitely a difference of opinion on what triggers it depending on whom you ask. We wanted to know what assumptions people make of women with nipple erection," said Professor Rebecca Burch of the State University of New York at Oswego and author of the study.
The study had 85 male and 355 female participants. They were shown a series of photos of women with and without nipple erections. After viewing the images, the participants were asked how it made them feel and what according to them the woman in the picture was feeling, based on a list of 16 emotional states. The women's faces were omitted out to hide facial cues that determine emotional states.
Analysing the data, the researchers found that both men and women associated nipple erection with positive emotions, such as happiness and friendliness. However, men went on to associate it with sexual arousal as well as higher levels of sexiness.
"Men and women saw the same randomized slides that were composed of two identical images of women, one with nipple erection and one without, yet responded significantly different in how they felt and how they thought the woman in the images felt," the researchers said.
The study found "that nonverbal communication and appearance can definitely be perceived differently depending on who you are interacting with," Burch told PsyPost. "Nipple erection is not something that can be controlled per se, so women may inadvertently display a signal that men perceive as sexual arousal, even when they are not aroused. Likewise, men may perceive that a woman is aroused by them when she actually isn't," she added.
Well, this will be one of the many things that men assume to be signs of sexual arousal in women. Imagine, being on a date on a cold winter night and your nipples are poking through your bra. And the guy thinks, 'she looks horny, let me make a move!' Then he moves his hands up your thighs and you feel mortified if you really weren't expecting it. What happens next? He will blame you for giving wrong signals. Erm, because you have a switch that you press to get your nipples erect when you want the guy to know you're horny? Plus, even if you were, it doesn't mean you're consenting to be touched.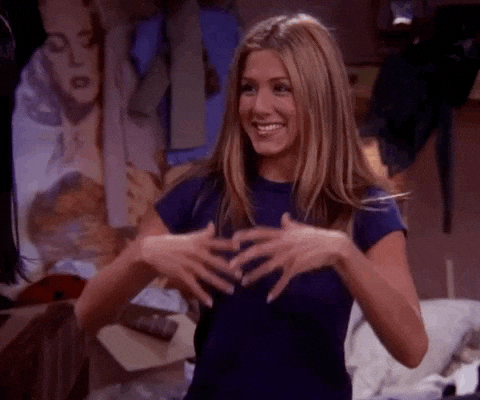 That's a whole different situation. But it's amusing to note that the world is really obsessed with women having nipples poking out. We know Jennifer Aniston's nipples probably had more screen time than some of her boyfriends did in Friends. You can't help but notice them poking out of her tee. But it was normalised; neither she nor the show decided to not want that on-screen! However, the world's been obsessively asking her to explain.
Why should she be answerable? But eventually, she did after the vella conspiracy theorists started making stories like Jen was asked to cut holes in her bra so her nips would point. Aniston told Vogue, "Yeah I don't know what to say about that! It's just one of those things, I guess. I wear a bra. I don't know what to tell ya! And I don't know why I'm supposed to be ashamed of them – it's just the way my breasts are. But hey, OG, I'm not going to complain!"
Maybe Jennifer Aniston was trying to lure Brad Pitt back with her white dress that left nothing to the imagination and her erect nipples. #SAGAwards

— Janela (@Nela31) January 20, 2020
In 2020, Aniston won her second Screen Actors Guild award for her work on AppleTV+'s The Morning Show, the first being for Friends. She got on stage wearing an ivory dress and her nips very much wanted to make an appearance so they did. And guess what? She was okay with it. However, netizens decided that instead of acknowledging her work, let's get all hyped up with the fact Aniston, a woman…has nipples. "Maybe Jennifer Aniston was trying to lure Brad Pitt back with her white dress that left nothing to the imagination and her erect nipples," a user wrote. Well, sure, that's what the biological functions of women's bodies are for.
In Sex and The City, Samantha uses fake nipples after she figures that models in the magazines may be wearing them for aesthetic purposes. "Nipples are huge right now. Open any magazine! It's not that cold. Those girls are either tweaking or they're wearing these," she tells Miranda to try them on.
Cut to present, fake nipples are a thing! One can stick these on their skin or over their bras for that "cold" look. What if you want to wear a bra, you know for support, and tell the naysayers 'My nipples are my nipples, none of your nipples?' Maybe it's like training to #FreeTheNipple. Who cares what's the point? Especially if there are two!
"This research opens up so many questions. What about male nipple erection? Masters and Johnson showed that male nipple erection didn't follow the same patterns as female nipple erection, so does it signal the same things? How is nipple erection perceived when women (or men) are topless? How is nipple erection perceived in older or breastfeeding women. We don't know yet," Burch said.
GET HAUTERFLY IN YOUR INBOX!