Lifestyle
Here's Why Having A Destination Wedding Is The Best Decision You'll Make
By
|
From Goa to Bali, if you haven't been invited to a destination wedding yet, you're probably suffering from #FOMO. And who can blame you? Destination weddings are not just a trend, they've practically become a necessity for many couples in India.
A wedding is a once-in-a-lifetime event, and couples want to make sure their special day is a memorable event for everyone. Destination weddings seem to do just that.
Here are 8 reasons why these kind of weddings are more fun than any other.
1. The photos will always be stunning!
Everywhere you look there is a picture-perfect moment waiting to happen. The natural backdrop will be an inspiration for the photographer and videographer. So, you won't really have to stress about them capturing the right moments.
2. You can save tons of money on the décor.
The location itself is going to have so much natural beeauty, whether it's a royal palace or a beach with palm trees and blue waters. All you need is simple floral decor and modern accents to add to the natural setting.
3. The destination will become a special place for you and your partner.
A part of you will always be attached to that location. It will bring back fond memories whenever you hear it being mentioned anywhere. What's more, it will be your "go-to" place to celebrate anniversaries, birthdays or add a little spark to your relationship anytime you want.

4. You can enjoy that big, fat family holiday!
You know how you always wanted to take a holiday with the whole fam! Well, this is your chance to do it. You'll get to spend quality time with all your loved ones, and enjoy every single event of your grand wedding with them!
5. You'll have everyone's full attention.
Away from their city life — work, their social life, traffic, and other responsibilities — your friends and family will be relaxed and able to enjoy your wedding to the fullest. Plus, they'll be able to play an active role in all the fun activities and games, unlike if they were back home, rushing home to go to office the next day.
6. Out of town guests won't crash on your couch.
As Indians, we all have an extended family that we didn't know existed. So when it is wedding time, half of these out-of-town guests raid your house, and sleep on your couch! Completely avoidable with a destination wedding.
7. No stressful family situations.
Since many of your pesky relatives won't be there, you have the liberty to do whatever you want! From parting all night to customising wedding traditions, and adding cool new ones to the mix, you can avoid all those stressful disagreements with the relatives.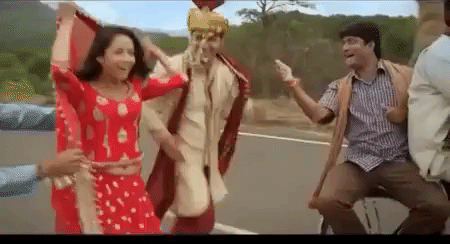 8. You can share a destination you love with others.
You can show off a place that has special meaning to you. Share where you took your first vacation as a couple, or a place you've been wanting to visit for a long time, with your near and dear ones, and make that destination even more loved!
GET HAUTERFLY IN YOUR INBOX!