Chingsanghoih Guite / The Hauterfly
Lifestyle
Dear Kangana Ranaut, The Tanishq Ad Is Certainly Not Sexist And Your Attempts At Staying Relevant Are Getting Boring
By
|
Every time I write about something ridiculous that Kangana Ranaut has pulled, I make it a point to begin by reiterating that I love her work on screen. It's not an attempt to pacify her supporters so that they don't trash me for my views. I don't suffer from the same hubris as her, where I'd inset myself into every situation, thinking that the world revolves around what my opinion is. I do it more for my own sake, because I don't want what she does IRL to ruin what Queen and Panga mean to me. I want to be super woke and declare that I won't separate art from the artist anymore, but this unlearning takes time. But Kangana is relentless in her endeavours to chip at my respect for her work. Her latest attack, a rather weak criticism of the controversial Tanishq ad being sexist, did considerable damage.
In case you're living under a 22k gold rock and clueless about what's happening, here's some context. The jewellery brand Tanishq released an ad which shows interfaith harmony. Basically, a Muslim family surprises their Hindu daughter-in-law with a baby shower (god bharaai ceremony). Visibly emotional, the woman asks her MIL why it's happening since you don't have such ceremonies in their religion. MIL says every religion values the happiness of daughters.
And a lot of Indians went like….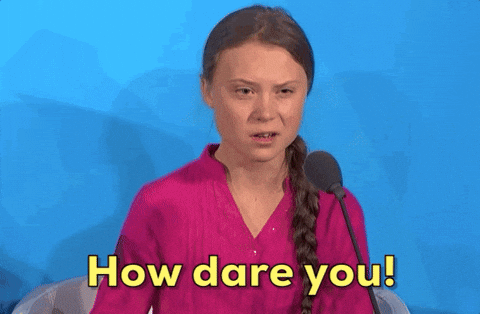 Bad brand, Tanishq! You've the audacity to show Hindu—Muslim harmony at a time like this, when trolls and IT cells are working so hard to spread communal discord ? Don't you know 'secular' is actually an insult in India now? (In case you didn't, you should read Maharashtra Governor BS Koshyari's letter to Maharashtra Chief Minister Uddhav Thackeray, where he asks the CM if he isn't reopening temples because he has 'turned secular'. Or you could just search the word on Twitter and see how the trolls use it to shame liberals, which is another word that's become an insult lately.)
I won't delve much into the whole 'Love Jihad' argument here, because it would be the equivalent of Indravadan Sarabhai trying to explain Rosesh's poem to a deaf Madhusudan bhai.
But let's dissect Kangana Ranaut's valued criticism of the ad, where she says concept toh theek tha par execution nahi. Advertising students, take notes.
The concept wasn't as much a problem as the execution was,the fearful Hindu girl apologetically expressing her gratitude to her in-laws for the acceptance of her faith, Isn't she the woman of the house? Why is she at their mercy? Why so meek and timid in her own house? Shameful. https://t.co/LDRC8HyHYI

— Kangana Ranaut (@KanganaTeam) October 12, 2020
This advert is wrong on many levels, Hindu bahu is living with the family for significant amount of time but acceptance happens only when she is carrying their heir. So what is she just a set of ovaries?This advert does not only promote love-jihad but also sexism #tanishq

— Kangana Ranaut (@KanganaTeam) October 13, 2020
As Hindus we need to be absolutely conscious of what these creative terrorists are injecting in to our subconscious, we must scrutinise, debate and evaluate what is the outcome of any perception that is fed to us, this is the only way to save our civilisation #tanishq

— Kangana Ranaut (@KanganaTeam) October 13, 2020
Save our civilisation. Wow. I mean, Those scientific values of scrutiny, debate and evaluation are bang on. But looks like Kangana Ranaut did not take her own advice. But I will, and here's a systematic dismantling of her fragile argument that the ad promotes sexism.
First, the girl does not look fearful at all. If we're going to read into the ad and make our own interpretations, I'd say it could be her nature to be shy. Remember Rani from Queen, Kangana? She was portrayed as a shy, timid girl, even when talking to her own fiancé. That didn't make her fearful of him, did it? Besides, maybe, the girl in the ad is just surprised because she didn't think this was part of her day's agenda! She was looking forward to a chill day, maybe some Netflix and bed rest. And suddenly, them in-laws swoop in, asking her to get decked up in desi wear. Girl wasn't fearful, she was just confused!
Again, how did you assume the girl was living with the family for a significant amount of time? Maybe the couple were married and living away from home, and this was the first time she was with her in-laws. That happens, right? And why do we think acceptance happened only when the daughter-in-law was about to deliver an heir? These days, festivals like Diwali, Ganesh Chaturthi, Holi, Eid, Christmas, heck, even Halloween, are celebrated by people of other faiths, because it's more about the celebration, the food, the socialising than it is about the religious aspect of it. (Thank heavens for that) So again, maybe the daughter-in-law was wasn't as surprised by her Muslim in-laws celebrating, say, a Diwali or Holi, but something like a traditional God Bharaai, which even a lot of modern Hindu families don't necessarily do, was unexpected.
Usually, women have baby showers these days! I'm sure if you asked the younger generation, they wouldn't even know what to do in a God bharaai! Baby showers are infinitely more fun, TBH!
I could list at least ten such assumptuous back stories for that interfaith family, and in each one of them the sentiment would be more beautiful than the last.
So let's tell it like it is, Kangana Ranaut. You can try passing off your criticism as coming from a place of concern for a sexist narrative. But we all know it's just 24 carat pure bigotry that's stopping you and others from seeing the ad for what it really is. You can sell it to us, but we ain't buying your fakes.
Kangana Ranaut Calls Bollywood Selfish For Keeping Quiet About Aarey. We Totally Support Her!
GET HAUTERFLY IN YOUR INBOX!