Shrey Sawant/TheHauterfly
Lifestyle
I Tried To Learn How To Make Gol Rotis From My Mother And This Is How It Went…
By
|
I recently turned 24, and among the many adjectives that I use to describe my delightful self (modest, being on the top), independent is probably the most used and advertised word from the list. Backing it up with the fact that I had managed to successfully move out of my parents' house and was living on my own until a while back, I believed that I had finally achieved the level of 'aatma nirbharta' PM Modi gabbed about last night. However, not so much in my mother's expert opinion, who has more often than not, ensured to remind me how I can never really be independent till the time I learn to cook for myself. And no guys, mom says that maggi doesn't count.
I dodged the bullets of gol roti making tutorials for the 20-something woman for as long as I could but all those missed shots have finally caught up with me in this lockdown. Realising that knowing how to cook anything that doesn't come out of a ready-to-eat packet might actually come in handy — especially at times when food delivery is no longer an option, and your mother isn't around to pamper you with ghar ka khana — I decided to start with making the staple Indian flatbread.
The fact that before I had even started my mother's face was gleaming with happiness was, in fact, a good push into the process. However, with too much pressure over my head, of the heat, of a very high benchmark set by my no-less-than-a-chef mother and of the bet my elder brother had placed on the chances of me being able to pull it off, I started with my first roti making experience. And mind you, it was life-altering. Okay, that is a bit of an exaggeration, but it was great.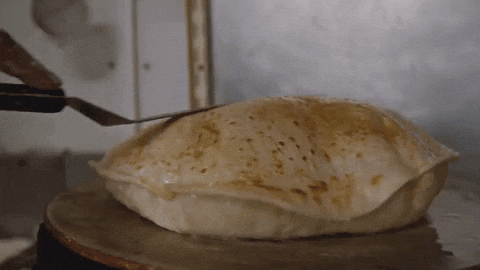 Carefully adhering to my mother's instructions (which at times came as sudden screams into my ears) on how to mold the dough, flatten it and ultimately turn it into a perfectly round shape, at about my third attempt, I was already acing it. And just like that, as I turned from a novice to an agreeable roti-maker, I wondered what was it that held me back all this while. My family devoured the almost round chappatis I made, and much to my surprise even gave me some token money as good luck. That was when I decided I needed to this more often, just as much for the money as for the appreciation.
Knowing how this moment had turned me from a rookie to someone who could now claim to feed herself, I felt rather proud of myself. And despite it being a basic life skill, that most people wouldn't understand the hype of, but coming from a girl like me, who would feel repelled from even the thought of cooking and go straight to my Zomato account, it was no less than a milestone. Of course, now that I can make rotis, I have another chore added to my daily list of work to do, but safe to say, this one makes me feel rather good about myself, and is something we all need to give a try!
GET HAUTERFLY IN YOUR INBOX!