Shutterstock
Lifestyle
#HauteHacks: 3 Easy Fruit Hacks That Are Perfect For The Summer
By
|
It's World Health Day and we at the Hauterfly HQ are trying to stay off junk, at least for today. One thing that every rookie starting their journey on being healthy knows is that health and fruits are synonymous.
Whether it's an apple a day or some refreshing pineapple, a sure shot way to beat the heat is eating fruits that are seasonal, which also help build your immunity. But we often get tempted by the greasy food around us and give the natural goodness around us the slip.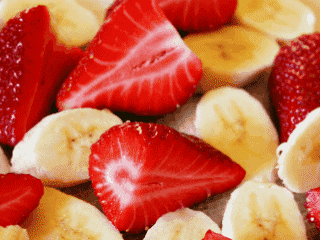 So, why not tweak things a bit and give good ol' fruits a makeover? You can turn them into tasty juices or milkshakes, but there are a few other things that can make fruits your BFF! Scroll down for some quick fruit hacks, and try to enjoy the summer, because well, the monsoons will start soon after, and we'll miss the sunshine.
1. Banana Ice Cream
Sure, you can head to Naturals for a scoop of some delicious banana ice cream, but when you can whip it at home, why bother! Slice and freeze bananas overnight and then put them in the blender. That's it, your ice cream is ready. You can add choco chips or syrup to enhance its yumminess, but logic asks you to refrain from doing that.
2. Fruit Ice Tray
One thing that people keep telling us is to drink water and eat fruits, so let's combine the two. Chop fruits like strawberries, cherries, grapes, etc., and put them in the ice tray with water. You will get frozen fruit ice cubes that a) are pretty, and b) will add a sweet taste to your water that will make you want to hydrate, all day long.
3. Frozen Grapes As Snacks
If you are a health freak and are hosting a party, these have to be on the menu. Known as 'grapes kebabs' all you have to do is freeze grapes, till they have a little layer of ice on them. Then just stack them on a stick and serve them as quick bites to your guests. They work amazingly well with a glass of wine and you literally have a snack without any hassles. *win-win*
GET HAUTERFLY IN YOUR INBOX!