Shrey Sawant/Hauterfly
Lifestyle
Beauty In The Times Of Quarantine: Will This Lockdown Change The Definition Of What Is Beautiful?
By
|
As I close in on the third week of quarantine, there have been quite a few things that I have been deprived of. Apart from social distancing, as all of us find ourselves at a safe distance from routines that earlier governed our every day living. From a brake on consuming junk food, to learning what it means to stay home and save money, quite a lot of things that once we cringed about, have started to grow on us. As have facial and body hair, which even though we thought we would be okay with at the start of this quarantine, has certainly and suddenly become a revelation to us and how we perceive ourselves to be beautiful.
You see, at first, every time that I would catch myself staring a mirror in my room, which is way too often, I would fall into a rut of thinking about how probably by the end of this lock down, I would come out looking like an adolescent boy, sprouting hair everywhere. However, weeks into this self isolation and self-introspection, as the skin continues to be left unperturbed and without any makeup, eyebrows and upper lips have been left untouched and the roots of our hair have gone black again without any touch ups, it seems like originality might finally be making a come back.
Come to think of it, ever since we've come of age, all of us have been slaves to a certain kind of a beauty routine that never really left a space for us to explore what it is like to be ourselves- no products et al. In a race to meet society's expectations of what is beautiful, we forgot what it was like to be entirely real. From waxing to threading to bleach to getting hair coloured, as everything gets put on a hold, women are being forced to acquaint themselves to a raw version of their selves, and I have to admit, it feels kind of liberating.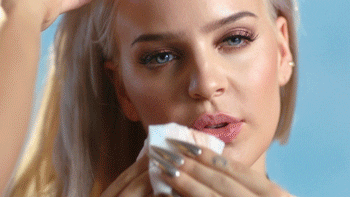 After all, when was the last time that we looked at ourselves and felt proud of the woman in front of us? Or looked at us and didn't want to change at least one thing? We have been measuring ourselves against the society's definition of beautiful for so long, that our own perspective was lost in the way.
The adolescent boy that I used to see in the mirror as a reflection of me, is actually the girl inside me that had been stripped off her innocence one waxing strip at a time. We have been told, for so long, that looking like a freshly plucked chicken sans any hair is the only way to look conventionally 'beautiful.' And this isn't just me and our generation. With hair dye not being considered essential, my mother has somehow started to appreciate her grey hair that would earlier be coloured in a light shade of brown.
And it is such little changes that have made us to wonder, whether we should really hide our real selves – the raw, hairy version – which would mean that we would save money and time and in the due course of things, change the definition of what beauty is. And I will admit that it's not like when all of this is over, I won't go and take care of that moustache and uni-brow, but it is the fact that I have come to make peace with a lot of imperfections that I earlier used to try hard at tweaking, tweezing and hiding, that is perhaps going to make all the difference.
With natural hair taking precedence over heated curls, nails no longer being supported by extensions and your face not being lathered in 10 products a day, this lock down is not just changing how we look, but also how we look at ourselves. And so, let this be the best time to embrace yourselves, unapologetically, for who you are as you begin to find your own definition of beauty.
GET HAUTERFLY IN YOUR INBOX!