Sama Meerza/Hauterfly
Lifestyle
A Love Letter To BTS: A Tale Of Love At Second Sight, Heartbreaks And Then Unconditional Love
By
|
Dear BTS,
As much as I want to print this letter on a paper and give it to ya'll, I know the chances of that are slim to none. So, I will write this letter out to let the people who judge me for my music or make fun of me for listening to you or love you as intensely as I do. I remember when I was first introduced to your music by my cousin and I was disinterested in you back then. Little did I know that I will come to loving you guys so much that I will cry happy tears at every milestone you achieve. I will be honest I did judge her too for listening to a "Korean" boy band, but that's in the past. I am a different person now ever since I began my relationship with your music.
It was a fun evening of Eid at my house when an unfortunate event occurred in my life. It was my breakup. And he was not just an ordinary boy, he was my best friend of six years who somehow convinced me into dating him and promised me it won't jeopardise our relationship. But that was a lie. A few days later I visited my cousin again and this time to not judge her but accept your music as it is. That's when I fell in love with every seven of you dorks. I would stay awake till late at night and listen to Blood, Sweat, and Tears and try to get which one of you I like the most. I am not being racist, I was just knew. But look how that panned out… I know each of you by your voice! Took me a while, but it was all worth it.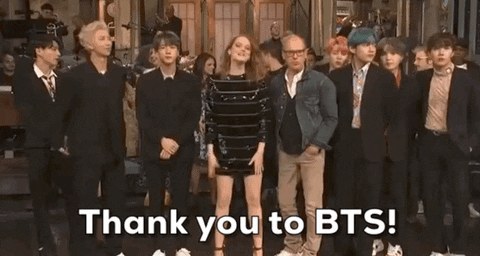 You helped me come back from a horrible time and made me feel loved and happy again. Your music made me feel like everything was right and perfect and that I didn't need no boy to make me feel that way. We (my cousin and I) would spend nights together watching the funny things you do that made me laugh so hard, I would snort sometimes. If it weren't for you I don't know how I would have come back to be ME. A lot of people may not understand or even try, but your music does have an affect on people. Your lyrics, your voices and your story. It inspires people around to "love yourself" or give yourself the credit you deserve. And even if it may not look like, but I am getting to love myself everyday because of you. Baby steps you see.
Thank you for being there through the hardest part in my life and thank you for understanding me even though I still can't understand some of your lyrics. And most importantly thank you for holding my hand and telling me You Never Walk Alone. Saranghaeyo
Yours,
A Forever Grateful ARMY
A Love Letter To My Ex Boyfriend: A Tale Of Self-Discovery And Gratitude For The Lessons You Taught Me
GET HAUTERFLY IN YOUR INBOX!