Sama Meerza/Hauterfly
Lifestyle
A Letter To My Househelp : A Tale Of Care, Wisdom And Unconditional Support
By
|
My Dear Purnima Didi,
Not a day goes by when you don't cross my mind. In fact, everyday starts with you walking into my room humming old folk songs from your village, and waking me up with a cup of your magical tea, placed on my bedside table. And I say magical here, because it's the only way you know I don't get cranky and start shouting at everyone for opening the curtains in my room. Of course, it took us a good few months, a million failed attempts and a variety of morning beverages to finally figure what works for my morning crankiness, but hey, we did finally settle on the perfect morning ritual and now, I am so thankful.
When you first came into my life, all our conversations or even brief passing interactions would only revolve around the areas on the floor you have recently swept and wanted me to avoid. At all costs. From dodging one patch here, to landing plum in the middle of another freshly cleaned and wet patch, you and I initially may not have gotten off on the best foot (pun intended), but certainly grew on each other to a point when I cannot imagine my life without you. Having me seen at my best, and my worst and then in between too, there is no one I can be myself around, as much as you. You're my safe space.
And contrary to the popular opinion, especially that of my mother who thinks I keep you around only for your aloo parathaas and dabeli, I feel that you and I have a special bond that goes way beyond our kitchen talks. From bringing in some order to my chaos, first in the superficial and material things in my life, to later on overhearing my distressing phone calls or mood swings and giving me some glorious life advice, you've had my back like an elder sister, who knows just what to say when, and how. In fact, I can proudly admit that, if it hadn't been for you and constant taunts accompanied by that of my mother's, I wouldn't be half the woman I am today.
I still remember the day, mumma fell extremely sick and considering it was after what she ate from outside, ordering food for the family was suddenly not an option. Standing in the kitchen there, like a lost kid, with a will to cook but the talent to only burn, you were the one who stepped up and gave me my first life lesson – eggs Benedict and chai.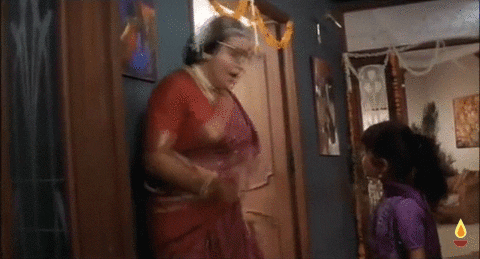 Little did I know that the kind of temperance, patience and tact with which you were teaching me how to make eggs, you have also been teaching me about the importance of these qualities to have in life. Because let's face it, you'd been the fixer in my life that I never knew I needed, until I got one. Your little life hacks, be it in organising an overflowing cupboard or overflowing emotions, have always come through for me, sometimes with a dusting cloth and other times with a patient ear. Be it citing your own life struggles and instances or those of the neighbouring households, conversations with you always given me a little more perspective in life.
Not forgetting the times when you have also turned into a version of evil god mother, after having caught me on one of my drunk shenanigans but yet being discreet about it, albeit not without first giving me an earful. If I were to count the number of times, you stumbled upon gifts, notes, vodka bottles and sometimes even a lighter in my room while cleaning, we'd certainly be looking at a very good case against the 'good daughter' reputation I have been trying to build. Except, you never told on me, but took it upon yourself to blackmail me into healthier and more acceptable lifestyle.
So, thank you, for being the life saver that you are. Thank you for teaching me selflessness, cleanliness and the importance of adding elaichi and adrak in your chai. Without you, time would be a luxury I'd be carelessly spending and would never know what it means to have a person you can depend on, and know that they'll always come through. Thank you for tolerating me and raising me right while at it. And most of all, thank you for being you, every single day.
Yours affectionately.
Hauterfly Love Letters is a Hauterfly initiative for the month of February where we will be expressing our love for all things that we love, owe an apology to or simply want to acknowledge. Watch this space for letters we write to everything from our lipstick to our pedicurist and everyone and everything in between. 
GET HAUTERFLY IN YOUR INBOX!