Chingsanghoih Guite/ The Hauterfly
Lifestyle
5 Reasons We Think Pope Francis Liked A Racy Picture Posted By Bikini Model Natalia Garibotto On Instagram
By
|
Here's your daily dose of entertainment- bikini model Natalia Garibotto has claimed that Pope Francis (yes, the Pope) liked a rather racy picture of hers. Shocked? Yeah, I have to spend five minutes picking up my jaw off the floor as well. I think this is the juiciest piece of drama I have heard since I decided to stop watching Bigg Boss. Pope Francis, the man who heads the Catholic church and serves as a sovereign for the Vatican City, liked a bikini model's racy picture. You can see why it's a big deal that is causing people on social media to flip out. 
The picture in question features Natalia Garibotto standing by school locker wearing a white crop-top and a skirt barely reaching her behind. However, after it was brought to everyone's attention that the Pope's official account had liked this picture, Natalia herself joked about it. She told Barstool Sports, "My mum may hate my ass pics but the Pope be double-tapping." And she tweeted saying, "Brb on my way to the Vatican," and "At least I'm going to heaven." 
Of course, the 'like' is gone now but the beauty of social media is that it will never let you forget. However, all this made us wonder what must've prompted the Pope, if it was even him, to like such a picture? So, we came up with a list of 5 reasons why the Pope would like this model's picture. 
Check it out: 
The Pope Is 'Cheeky'
Pardon the pun but I would hate myself if I didn't make it. Pope Francis is known for his fun-loving attitude. Compared to his predecessors, he is a real hoot. And hence we suspect, that him liking this racy picture of a bikini model, Natalia Garibotto is him being his brazen self. What a cheeky little devil the Pope turned out to be. 
It Might Be A Mistake
Now even though I would like to believe that there's a hilarious story behind this 'like', we can't rule out the fact that it might just be a simple mistake. We don't even know for sure who handles this Instagram account, it could just be one of the Pope's staff members. What we do know for sure is that someone related to the Pope, or the Pope himself, was looking at Natalia Garibotto's pictures from the Vatican. Which, if you ask me, is hilarious and shocking enough. I mean, it's nice to know that we aren't the only ones who stalk people on Instagram and then accidentally liked a photo we weren't supposed to. Oh damn, I have never related to the Pope more. 
The Pontiff Wanted To Like Her Picture But Not From His Official Account
The idea of the Pope having a Insta account is very intriguing and an actual possibility. Think about it, how many times have you wanted to like something from your private account but ended up liking it from your company's account? I know I have done it countless times. So, why can't the Pope make the same mistake? I know he is considered the "earthly representative of Christ" but he is, after all, human. 
Maybe He Is Genuinely Blessing It
Pope Francis liking this bikini model's picture attracted a slew of jokes and memes on social media. But that was expected considering the model herself poked fun at the whole thing. However, did anyone stop to think that maybe this was his way of blessing Natalia Garibotto's picture (or well, her ass)? It's a comforting thought, isn't it?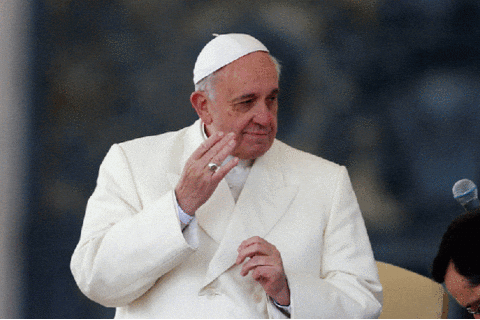 Pope Francis Has A Sense Of Humour Beyond All Our Imaginations 
As I said earlier, the Pontiff, unlike his predecessors, has a sense of humour. And so we can't help but speculate that this was some kind of joke. I am just trying to get over the fact that the pontiff not only uses Instagram but he also has this side. 
Pope Francis Says Sex And Food Are Divine Pleasures Sent By God And It Isn't Sinful To Indulge. We Say Amen To That!
GET HAUTERFLY IN YOUR INBOX!