Christopher Miranda/ Hauterfly
Lifestyle
5 Halloween Costume Ideas For You And Your BFF That You Will Find Right In Your Wardrobe
By
|
Halloween, they say, is the one night of the year where you can be whoever you want. A night of blending into the crowd with your best friend in a crazy-ass costume and bad makeup is what it's all about, right? But since we are only two days away from Halloween, arranging for a complicated costume for you and your BFF is kind of impossible since they are probably all sold out already. Now, you can either sit moping around and use that smudged kajal look as your cover for the party, or you can stop fretting since we may have rounded up a bunch of kick-ass costume ideas that you can re-create just by ransacking your wardrobe. Did I mention they are all couple costumes for you and your best friend? Take a look :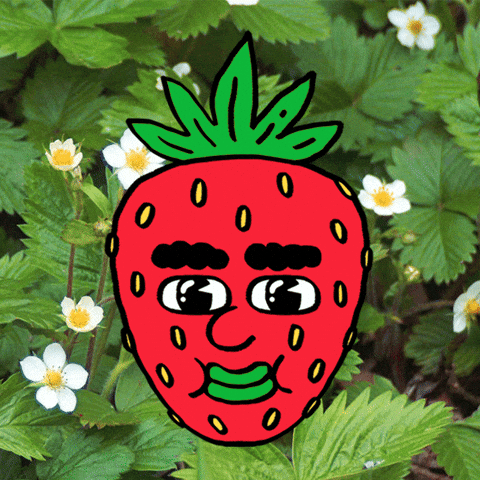 Strawberry and Pineapple
Sweet with a dash of tangy, this Halloween costume will be the ideal representation for you and your bestie. It is easy to create too, all you need for strawberry is a pink T-shirt dress with small polka dots on it and black sneakers. For Pineapple, all you need a yellow T-shirt and white sneakers. Then, take some green paper to make the leafy top parts of each fruit and stick it onto a hairband. There you have it- the perfect last-minute BFF costume and you didn't even need to run to the store!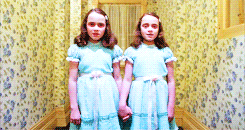 The Grady Twins from the Shinning
A true classic and one of Stanley Kubrick's finest movies, The Shinning has inspired millions of Halloween costumes, among other things of course. But very few people have thought of dressing up as the Grady Twins, the creepiest kids in the history of cinema, hands down. All you need for these costumes are two knee-length powder blue dresses, a white ribbon to tie as a bow around your waist, white knee-length socks, and black ballet shoes. Then, feel free to go crazy with your Smokey-eyed makeup and black lipstick. If you want to add an additional touch to this costume, throw splashes of fake blood all over it to emphasize the REDRUM theme and pull it all together with that silent poker face. This costume practically screams Halloween!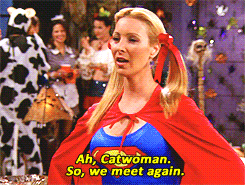 Catwoman and Superwoman
This one is pretty generic, but hey last-minute Catwoman and Superwoman are always a winning choice as your go-to characters. It's a relatively easy look to create as well. For Catwoman, you will ideally need a black leather bodysuit, but if you don't find one of those- a pair of black pants, a black camisole with a black leather jacket should work perfectly fine. And of course, the cat hairband is an essential part of the costume! Superwoman, on the other hand, is a little tricky. You will need a red pleated skirt, a golden belt, the classic superman T-shirt and a red cape. Also ideally, red boots but those are hard to come by. Red pumps would be the perfect substitute. And just like that, you have recreated Monica and Phoebe's Halloween look!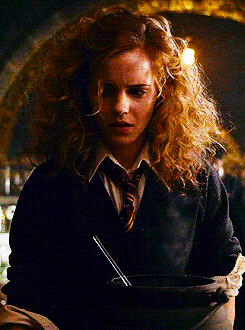 Hermione and Harry
If you and your bestie are Potterhead's you will basically ump at this one! It really is the classic Halloween costume you could hope for. For Hermione all you need is a pleated gray skirt, a white shirt, a gray sweater, a yellow and red striped tie, knee-length white socks and black ballets. Basically your old winter uniform from school. For Harry, you will need a black robe, a red and yellow striped tie, and black shoes. To make it more believable, take a red lip liner and draw Harry's mark on your forehead. Run to the store if you have to because if you'll nail this look it will guaranteed land you'll the best-dressed prize. And hey, don't forget to practice some of those spells while you're at it!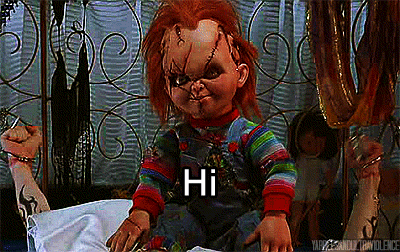 Annabelle and Chucky
Halloween=Scary, and what is scarier than one of cinema's spookiest dolls? Two of them! For Annabelle you will need a white full-sleeved gown, a red ribbon to tie around your waist, white socks, and socks. Tie the red ribbons around your two plaits as well. And here comes the fun part, whiten your face and apply stark red lipstick, to really get into the character. For Chucky on the other hand, you will need a red and white striped, full-sleeved T-shirt worn under a denim dungaree. Pair this with red heels or red sneakers and of course don't forget to carry a knife (toy knife, you aren't really Chucky, lol!) Easier than you thought right? If you get this look right, you will be scaring the hell out of so many people on Halloween!
7 Ways Your Friendship With Your BFF Changes After Marriage(Opens in a new browser tab)
GET HAUTERFLY IN YOUR INBOX!