Christopher Miranda/ Hauterfly
Fashion
Shilpa Shetty Kundra Freezing In A Cotton Saree On A Movie Set Makes Us Wonder Why Bollywood Hates Winter Wear
By
|
The image of a saree-clad heroine, singing atop a snowy mountain, while the hero prances around in five layers of clothing, has been forever embedded in my mind. It is also the reason why I always wanted to "go see snow" ever since I was a little girl. Bollywood movies really do form some of your early perceptions of life, although most of them are inaccurate. Because when I did finally make it to a snowy location, I kept myself buried under many layers, even while indoors. But the Yash Johar formulae of putting barely snug leading ladies out in the cold is one everyone familiar with. And while we always wondered what these women thought about it, one actually spoke up. Shilpa Shetty Kundra, in her own charmingly sarcastic way, called out this ridiculous phenomenon on her social media and we totally agree.
The health and fitness guru is currently in Lucknow, shooting for her comeback film Nikamma, and shared a BTS video from its sets. The leggy beauty can be seen shivering under her flimsy shawl, dressed in nothing but a cotton saree. She can be heard saying, "15 degrees Celsius… Director in a sweater, the artiste in a cotton saree", while throwing a cheeky sarcastic grin across the director.
As someone who was born and spent considerable time in the dry winters of Uttar Pradesh, there wasn't a single morning I spent without a monkey-cap on! Don't be fooled by the appearance of a  bright and sunny day, it gets ridiculously cold out there. In that, Shilpa's struggle in a cotton saree is completely relatable. Would it be too much to give her a multi-coloured cardigan? I know for a fact that women spend their entire winters in those hand-knitted babies, so it won't even be regionally inaccurate. Bollywood has gotten away with a lot worse!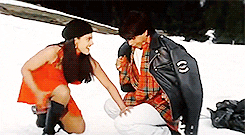 Shilpa's predicament in the cold reminded us of the many time her peers had to freeze their butts off in the harsh climates. Granted, Kajol in DDLJ has a quarter of rum to make her cheeky drink, but even that isn't enough against the weather, guys. We have often spoken about how women in cinema have considerably higher demands of their job, still being paid less than or equal, for more work they put in as compared to the hero. Shouldn't this be rewarded with proper clothes at least? If my 90s starlets were put on screen in Bollywood songs with fuzzy coats and cute beanies, I wouldn't have minded, Winter wear is super cute.
Even Bollywood seems to aware of this by now. Anushka Sharma and Ranbir Kapoor called out the hilarity of the situation in Ae Dil Hai Mushkil…
Guess what's happening here ? Never thought I'd get to do this 😊! #AeDilHaiMushkil pic.twitter.com/1qpe07CYtz

— Anushka Sharma (@AnushkaSharma) October 5, 2015
…making for a great comedic movie moment indeed. This also extends to the shady costume designing some of the younger girls are made to endure in their earlier films. The fact that Alia Bhatt had to spend an entire song sequence in sequinned mini dresses, with an open-coat thrown on for survival, is so stupid to us. At least classic actresses like Sridevi and Aishwarya Rai Bachchan were able to fake ignorance through their performances…
…but Alia looks like she will pass out at any moment in this song. Maybe, it is time to leave this Indian cinema trope in the past and honour our leading ladies with warm clothes. Or at least allow them a dash of Irish Coffee, every now and them!
While we wait for costume designers to come around, enjoy this hilarious clip of Sopbhita Dhuliapla braving the cold while shooting for Netflix's Bard Of Blood:
Hauterfly Investigates Why Movie Costumes Worn By Actresses Fetch Millions In Auctions. These Bollywood Outfits Raked In The Big Bucks
GET HAUTERFLY IN YOUR INBOX!