Sama Meerza/Hauterfly
Fashion
We Asked A Designer For Tips On Buying Clothes That Flatter Your Boob Size And She Spilled The Beans
By
|
A common theme we notice in women's shopping habits is the constant obsession with boobs. A group of girlfriends shopping together will never come back with the same clothes, even if they have similar body types. The reason? The breasts that have a mind of their own!
Regardless of an apple body type or hourglass, breast sizes can differ greatly still in women. Which means, there is a need to pay close attention to fit, make and look of an outfit. Whether you are carrying around an impressive pair of tatas or have just a handful of cute ones, there is a way to properly dress, so it enhances their natural shape while still offering support.
Having said that, we did feel the need to look for some expert advice on how exactly boob sizes can affect our buying decisions. Fashion designer Rhea Pillai Rastogi, whose label dresses women of all shapes and sizes, gave some of her insights on how to manage 'em breasts the right way!
Flattering Styles For Bigger Breasts
According to Rhea, the most flattering styles for bigger breasts are:
Wrap dresses

Kaftan style tops

Kimono tops

Tube or off shoulder dresses, ankle or full length either cinched at the waist and flared or bodycon

Draped silhouettes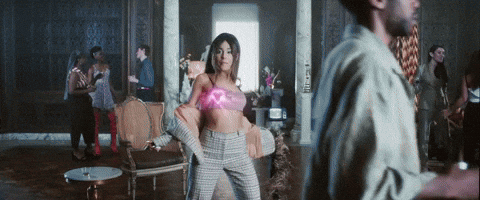 Flattering Styles For Smaller Breasts
For ladies with smaller breasts, Rhea suggests gather detailing on tops and dresses to give the illusion of fuller breasts. Some of the most flattering styles for petite women are:
Wrap dresses and tops

Knots and tie-ups under the bust 

Cowl necklines

Bandeau tops 

Androgynous style; a well-tailored suit 
Curvy Bodies And Colours
Colours do make a difference but one needs to surely look out for prints. Bright colours, as well as darker colours, work really well, but one should avoid pastels.
Choosing micro prints over macro be it floral, animal, geometric or lines is ideal. The golden rule is to avoid horizontal stripes.
Curvy Women And Support
Apart from the right kind of bra, the cuts of an outfit alone can provide ample support for bustier women. The trick is to have a fitted seam right under the bust, be it saree blouses, halter tops, tube tops, gowns, that magical seam can solve half the support issues, says Rhea. 
The Best Way To Show Off Curves Without Looking Bigger
I'm a big believer of, if you have it flaunt it and if you don't have it flaunt it nonetheless because being comfortable in your own skin is imperative when it comes to finding your own style. When choosing an outfit, try and add micro prints to the mix. This breaks the monotony of one solid colour. For example, if you have a small upper body but bigger hips and a curvy bottom you can pair a wrap top with a printed flared skirt. Surely, avoid large prints.
Dresses or tops with pulled in drape details at the smallest part of your body flatter your curves without making them look bigger. 
One should mix fitted separates with boxy or loose ones. For example, if you want to wear a fitted spaghetti top with loose pants but are conscious about your sides or arms, throw on a light flowy kaftan or jackets of a softer material. Thicker material will only add bulk and defeat the purpose.
GET HAUTERFLY IN YOUR INBOX!