Christopher Miranda / Hauterfly
Fashion
Deepika Padukone's 'Chhapaak' Promotional Fashion Is Experimental And The Internet Doesn't Get It. Here's What We Think
By
|
Unpopular Opinion: Deepika Padukone's recent foray into a more eccentric form of styling is not "ridiculous" (as pointed out by some fans), it is exciting and dripping with potential. A common criticism she has faced is to play it safe with her sartorial experiments, sticking to the rule book of "How to dress like a fashionable celebrity". It takes courage to reject set industry norms fo how an A-lister should look like and even though, it might seem overwhelming now, we think Deepika will pull off it off one of these days.
The leggy beauty has been promoting her next Chhapaak and has made it a point to curate a completely new set of looks, something we have not seen her do yet. While it's still early to speculate, I would call these brazen outfits as "going hard" on the effect and impact. Love it or hate it, you will remark on them. For me, it makes sense that Deepika will try to push the limits of her styling in the Indian space, she pulls off tricky looks with ease and has an equally quirky life partner to blame any missteps on. Like, we know she can just call Ranveer Singh out for suggesting a particularly out there look and we'll believe her!
Giant Hoops
The self-professed fashion "critics" of Instagram compared a solid leather Proenza Schouler outfit on Deepika to things like sofa covers and I am weeping for humanity. Deepika looks like a tall glass of sleek black coffee, with gold bling sprinkled through in the form of giant hoops and yummy highlighter. The sheer commitment of wearing leather in the Mumbai heat is as badass as it is indulgent, she wants to go the extra mile.
Prison Chic
Not gonna lie, at first sight of this particular look from Deepika doing the rounds of the interweb, I was hit by a wave of nostalgia. Deepika looks like she could have made a well-deserved cast member of the popular women's prison TV show Orange Is The New Black (2013-2019). The shirt and pants set from Aje. was based on female firefighters' uniform in the Australian continent and is a symbol of power and solidarity with the force. We can certainly feel the strength exuded by the tough separates in Padukone's demeanour and that…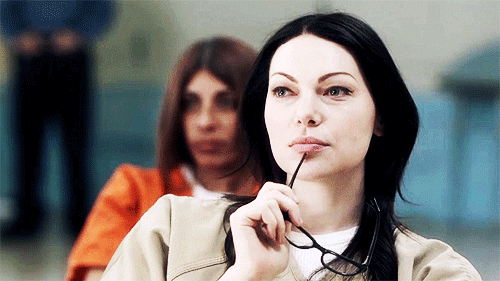 …is super hot!
Knitted For The Gods
For the title song launch of the Meghna Gulzar directorial, Deepika chose an outfit from one of her favourite labels Alberta Ferretti. The structure and make of AF clothing suits the fit actress well, which she decided to switch up with a knitted one shoulder studded number that looks stunning. Also, those wide waisted denim jeans with crumpled bottoms give a sense of youthful recklessness that we are instantly charmed by. I have stepped out in turned up hems instead of getting my pants altered one too many times, the lazy detail in Deepika's outfit is fresh.
The perfection in her fashion before was getting boring and we are glad that things are being shaken up!
In other news, check out newly released title track from the film below:
Has Deepika Padukone Been Raiding Ranveer Singh's Wardrobe Lately? We Love How Bright And Colourful It Is
GET HAUTERFLY IN YOUR INBOX!