Christopher Miranda / Hauterfly
Fashion
Deepika Padukone And Nora Fatehi Wore Head-To-Toe Leather But We've A Favourite. Also, Why Leather?
By
|
Did we miss the memo or is leather in-vogue in 2020? There is enough material going around to line everybody's couches with. A classic winter trend, celebs have taken it a bit further with head-to-toe ensembles that make us sweat even thinking about them. A touch of the 90s, all-over leather was a runway fave from most fashion houses, Chanel, Versace, and Helena Christensen, to name a few. But with the rise of sustainability in fashion, many creators have been swearing off this fabric, even its synthetic PU form which uses some amount of animal skin. Yet, an early comeback of the trend indicates that the look has long legs and won't be forgotten soon.
A trendsetter at home, Deepika Padukone has been pushing her style further away from what she has successfully established over the years. We initially thought it is her flamboyant husband Ranveer Singh's influence, but the longer we stew on it, the better we are convinced that it's her own doing. Maybe she was playing it safe to not shock people and now that she's untouchable, she is blossoming. How exciting!
One of her recent dabbles in experimental styling was head-to-toe Proenza Schouler leather separates that looked straight out of a Matrix movie. She paired it with giant hoops and killer stilettos, shaking off netizen created meme comparisons with leather cushions or Steven Tyler from Aerosmith. Like a true trendsetter that she is, the same looked popped up on another young starlet…
….Nora Fatehi, but with a Burberry trench added to the mix. Full disclosure, the only thing I personally love about Nora's look is the Louis Vuitton Petite Boite Chapeau handbag and the coat. The rest of it is a big ol' mess. I am not a fan of the leather in the first place bit at least Deepika's sleek look is somewhat tolerable with its clean lines and smart pants. On Nora, the ill-fitted set quite literally looks like furnishing covers. The ruched tuck on both the shirt and pants are so not chic, we are tsk-tsk-ing. Also, that chunky bling is kinda tacky TBH, oops!
Call it prejudice or a conscious choice, we'd love to see leather does a disappearing act from the face of fashion. There are so many ways to look badass and edgy without having to indulge in this fabric. You can play around with form-fitting outfits or strategically places cuts-outs, frankly, we are spoilt for options. Because every time we see leather, one image always pops up in our head…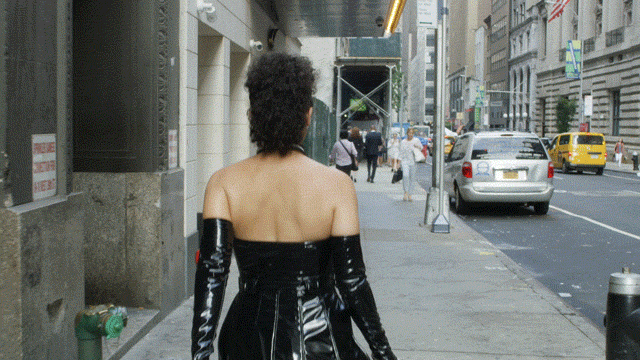 and it's just not cute. Pass!
It Is Leather Weather In Bollywood And Though It Looks Cool, We'll Pass On This Trend
GET HAUTERFLY IN YOUR INBOX!