Sama Meerza/Hauterfly
Fashion
A Letter To My Playlist : A Tale Of Compassion, Connection and Major Feels
By
|
My dear Playlist,
If there ever comes a day in my life, where I would have to go through the entire day without making contact with you, it would probably be the day I land myself plum in the middle of depression. Not to sound too clingy or dependent (although who am I kidding?), but you have been the only constant in my life for years now and imagining living life without background music now feels almost physically and psychologically impossible. And not to forget, extremely dull.
I still remember the first time I ever took notice of you and the kind of impact you had in my life. I was 19, going through my first break up and up until then, the only times I'd heard of you was at parties, social gatherings or events. But that day, as I sat in my room alone, at my lowest and with earphones on, it was the first time that you and I connected on a more personal and individual level. You see, my bond with you wasn't formed over night, but over countless nights that followed and kept me company while I struggled myself out of my first teenage heartbreak.
Ever since then, you and I were inseparable. From sad moments to happy ones, from excitement to anxiety, everything that went on with me, was not just compassioned by the likes of you but also empathasized. Suddenly, people and their words started seeming fickle and unnecessary in front of your most appropriate lyrics and tunes, with the right songs being played at the right time, sometimes elevating the moment and sometimes just calming it down.
With a song ready to cater to my every mood, you have single-handedly but with a diverse collection of all – hindi, english, punjabi and spanish songs, have tended to me and kept me sane in times that would otherwise envelop me in loneliness. In fact, during times when a writer like me was left speechless and out of words, I only have you to thank, to sweep in, take charge and convey my feelings, in a song that didn't just express but also impress!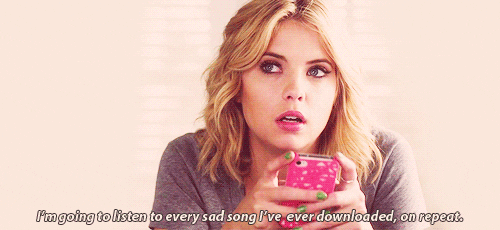 Be it during cab rides on monsoon nights, when I seek to pretend to be heartbroken and play Arijit Singh songs, or during times in office when I just can't get my eyes to open and jump to some R n B, you have managed to mirror my emotions with songs and reminded me that I am not alone. Be it playing channa mereya on senti nights or kajra re when I am a little too tipsy to even stand, nothing defines me or my mood more than you and nothing has taught me more than your specially curated mix of lyrics from legends like Eminem, Beyonce, Pink Floyd, Gulzar, Jagjit Singh and more.
So thank you, for lending me a ear, or actually letting me lend one to you, and getting through to me when no one else could. Thank you for being the only way I could ever bear with those stuffed and annoying metro rides back home, thank you more making those morning rituals a little more easy, thank you for making awkward car rides with people a little less awkward, and those with my favorite people, a little more fun. But most of all, thank you for being omnipresent in my life and adding rhythm to what I thought were only out of sync cries. Here's to adding more flavour, more taste and more diversity to you in the years to come!
Yours faithfully.
GET HAUTERFLY IN YOUR INBOX!