Christopher Miranda/ Hauterfly
Fashion
It Is Leather Weather In Bollywood And Though It Looks Cool, We'll Pass On This Trend
By
|
Like most teenagers growing up in the mid-2000s, with an unhealthy amount of exposure to pop culture, I went through an 'Emo' phase as well. I would paint my nails in chipped-like lines of hot pink and black, rock kohl-darkened eyes and constantly quote lyrics from Bullet For My Valentine songs. But the one thing that I craved for more than anything was one of the leather jackets from Avril Lavigne's videos. There was nothing I wasn't prepared to sacrifice, just so my parents would buy me a leather jacket. It was the manifestation of everything cool and badass, nobody messed with you in a shiny, oversized jacket. But since these babies don't come cheap, I never got one, at least in high school.
I did buy one in college…a bulky, silver chained number from the men's section at a retail store because god forbid they sell leather to young women. That jacket lasted me all through college, but in hindsight, I remember being constantly drowned in it. This is why the emergence of leather as one of the biggest trends this winter has left me apprehensive about the same.
The Change In Perception
As I mentioned before, leather for me in the mid-2000s symbolised all things rock n' roll and cool. But the past decade has seen a huge shift in the way sustainability in fashion is perceived and accepted as a genuine way of doing things. No longer is 'sustainable' a buzzword or a USP. All labels big and small are making it a necessity instead of just an add-on. This is why my perception of using leather in clothing has drastically changed too. Genuine leather is already all kinds of exploitative for its the use of animal skin, even it's faux kind (bonded polyurethane) use the fibrous part of cowhide in its make. We are so not about that life anymore!
They Are Not A Statement Look We Want
There is a reason why leather clothing has managed to stand the test of time all these years. They are a statement piece or accessory, add a touch of leather to your outfit and it instantly becomes dressier. Leather boots are one of the all-time favourites of fashionistas and leather skirts are a workwear fave of women who like to experiment. But our philosophy of fashion is to create a versatile outfit without having to rely on a safe bet. Leather demands a lot of attention, something we shouldn't want to shift from the other pieces in our ensemble.
They Are Uncomfortable And Squeak!
Not that it matters to a Mumbai-dweller like me, leather clothing is damn restrictive to wear. They are a nightmare for people with sensitive skin, don't have any scope of letting our poor crevices breathe and, the worse, make squeaky noises. Every time there is someone in leather around, you can hear them. Which further supports our theory that spies will never wear leather catsuits because it will blow their cover!
All jokes aside, we understand why the trend has poked its head now, but we'll pass. We don't want to be in a sticky situation (literally!) like Ross and have to make an unfortunate call to our Joey on how to get shrunken down leather pants up our legs on a hot day!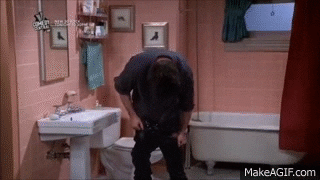 The Sequinned Cocktail Saree Is Trending Right Now And It's Beautiful. But It's So Uncomfortable To Wear!
GET HAUTERFLY IN YOUR INBOX!