Shrey Sawant / The Hauterfly
Culture
Not Just 'Rasode Mein Kaun Tha', Saath Nibhaana Saathiya Is Full Of Ridiculous Moments That Should Be Made Memes
With so much uncertainty already boiling up in the pressure cooker that is our life, I would've hated to not know ki "Rasode mein kaun tha?" I'm glad Yashraj Mukhate gave us the answer with that now viral Kokilaben mashup, ft. Gopi Bahu and Rashi from Saath Nibhaana Saathiya! The show, which began airing a decade ago, in 2010, ended in 2017. However, sporadically, people are reminded of the ratched shit that went on in the Star Plus show, which starred Giaa Manek and later Devoleena Bhattacharjee as Gopi bahu, Rucha Harsabnis as her cousin and  Rashi, Rupal Patel as Kokila Modi, Mohammad Nazim as Ahem and Vishal Singh as Jigar.
As someone who had to watch this show because I had a grandparent who watched it religiously, I grew to have a very masochistic relationship with it. Because even though it caused tremendous pain to my brain cells, I derived immense pleasure from watching the show follow the most unimaginable plots!
And that's why I can confidently tell you, the 'Rasode mein kaun tha' scene, or even the immensely viral 'Gopi bahu washing laptop' scene, are just the tip of the iceberg. The sheer ridiculousness of the show's twisted plotlines involved everything from sister sabotaging sister, love triangles, extra-marital affairs, fraud, depression, mental illness, fake pregnancies, casteism, classism, misogyny, time leaps and revenge. A whole lot of revenge. This big an iceberg of stupidity is enough to sink the titanic that is our brain.
So you don't have to, here are some of the most ridiculous things that Saath Nibhaana Saathiya, and its characters, Gopi, Rashi, Kokilaben and basically every person in the Modi parivaar has pulled off!
1. Yo Kokila So Toxic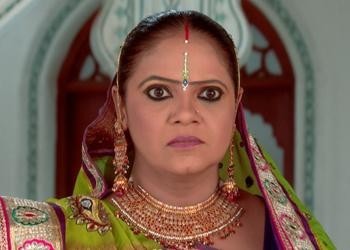 Recently, actress Rupal Patel reacted to the mashup video and remarked that only the greatest characters get meme-d like this and she is quite proud of having played Kokila Modi on the show. And I totally agree. Because pulling of such a toxic character, screaming at the top of your voice for every single word you utter, and wearing that jewellery and makeup to bed is not an easy feat.
Kokila was a very difficult woman to live with, and surprisingly nobody had a problem with the ways she ran the household, constantly screaming and abusing everyone, including her daughters-in-law. Instead of telling her to STFU and calm the F down, the elders of the house continued to dismiss her problematic behaviour. No wonder, people hated her character and her entire family, enough to keep appearing to sabotage their happiness!
2. Yo Gopi So Dumb, she laundered a laptop!
I get people being illiterate because nobody taught them to read and write. But Gopi is dumb to an extent that my brain cannot grasp. Who doesn't understand that electronic gadgets should not be anywhere near water? In what universe does she every time fall for Rashi and her mother Urmila's devious schemes?
In fact, the first few seasons of Saath Nibhaana Saathiya are just Gopi being fooled by Rashi. Does it not get old? I get that she was naïve before, but does she not learn from her mistakes to not trust her cousin and her aunt? Maybe Kokila should've called her 'dobi bahu'!
3. Rashi's sabotage plans with food: Channe, Laddoo, Pickle!
Believe it or not, the rasoda plays a huge part in this show, because that is where the sabotaging often happens. Over the course of the show, not just Rashi, but a bunch of other people as well, have tried to mess with Gopi's cooking. From adding onions and garlic to a bhog ki khichdi, to the case of the missing channa in the cooker, to Rashi and Urmila stealing Gopi's homemade pickle bottles because they wanted to sell it and make a profit…
Let's also not forget that one episode, where Rashi ordered 20 kgs of mithaai, got sent a giant 20-kilo laddoo, and then had to carry it up a flight of stairs into the temple! Only her husband Jigar rushed to help her, and that too she refused because she didn't want to let kaagdi (crow in Gujarati, it's what she called Kokila!) have the satisfaction !
Kill me now. Please. Why does this exist? Who writes this stuff? Who acts in this stuff?
4. Rashi becomes a ghost to scare Gopi. WHAT?
Clad in a white saree, with her long hair hiding her face,  Rashi pretends to be possessed by the ghost of Ahem's ex-girlfriend, Anita, and asks Gopi to leave her husband. While doing this, she stumbles and falls, and hurts herself, exposing her face in the process. When Gopi asks her what she's doing, she continues to pretend she is a ghost.
AND IT WORKS! I think more than Gopi, I feel bad for Rashi as a vamp, because she doesn't even get to plan elaborate traps for Gopi! Even the most rudimentary ones work! Once again, why did this family think Gopi and Rashi were good matches for their sons, again?
5.Why is the help abused so much?
Can we all just agree how pathetically Kokilaben treats the help, Mani? She gets called names like 'Dobi' and 'Daffod', which basically mean stupid or idiot, all the time! No matter who makes the mistake, Mani constantly gets verbally abused, and nobody, not even the Kokila's elder sister-in-law tells Kokila to behave better. In this episode, Gopi is the one who messes up the ironing of the clothes, so Kokila ends up scolding Mani as she asks her to bring the iron fast, and then check Gopi's work. She also scolds Gopi and then Rashi.

6. Kokila forces her daughter to marry a guy for 'izzat'
I won't deny, Kinjal was a real pain, and actually made some major boo-boos on her part by faking her pregnancy so she could get out of marrying a decent guy and marry her jerk of a boyfriend, who eventually dumps her. But when she finally pleads to her mother to call of the marriage they arranged for her last minute, Kokila declares that she won't do it. Kinjal is then forced to marry Rashi's brother, just for the sake of her family's honour.
Not like she changes herself for the better post marriage. She continues with her schemes, and eventually even falls for Dhaval, the guy she is forced to marry. But this was a really disturbing plot point, especially when you hear Kokila screaming on and on about how the wedding invites have gone out, so the wedding has to happen. And oh, how sacred motherhood is and how Kinjal has besmirched it by faking pregnancy! Chill, woman!
7. Nobody in the family can see through Rashi and Urmila's schemes, even though they aren't exactly smart!
Explain to me like I'm five, please. This mother and daughter repeatedly keep plotting against Rashi's very own family, even her husband and brother sometimes. And still, nobody sees through it. Instead they continue to entertain their relationship with the family! None of the men or the elder women in the Modi parivaar want to sit these two women down or threaten them with dire consequences. And for some reason, even their stupidest plans seem to work out somehow, with Gopi having to pay the price for it! I don't think even Moriarty had that success rate on Sherlock. WTF guys?
Note: Rashi gets killed eventually by a guy obsessed with Gopi's while she tries to save her life. And Urmilaben, her mom, becomes mentally unstable at some point in the show. So I guess….
8.Can everyone just stop slapping each other, FFS?
I mean, I get it. Just look at the shit this family's members keep pulling. Obviously, they all just want to slap each other all the time! But even then, there's a lot of dramatic slapping happening here that would put Marshall and Barney's slap bet from How I Met Your Mother to shame! Some dev maanus on the internet made a mashup of some of the best slaps on the show, set to a Yo Yo Honey Singh song, and I bet it 'hits' you right in those funnybones!
9. This show can get a spin-off called 'Revengers: Infinity War'
So, another thing that happens a lot in this show is revenge. Every. Single. Antagonist. in the show wants to destroy Modi parivaar because it is trying to extract revenge of something horrible done to loved one by that twisted family. For example, Anita, Ahem's ex-girlfriend, has a son who enters the family to avenge what happened to his mother. Kokila's friend, Gaura, enters at some point, to avenge the death of his brother, that was in some way caused by Kokila. There's even Radha, Gopi's sister, who was treated badly and removed from the house, who returns, finds a way to get fake a pregnancy, and eventually throw Gopi's child Meera into the river! Gopi kills her and has to go to jail for this! And now because of that Ahem and her other daughter hate her for abandoning them!
Revenge is a dish best served cold. But itni baar serve karoge toh indigestion ho jayega yaar!
10. Can we rename this show 'Patriarchy Nibhana Saathiya?'
This show went on for 50 seasons. Go figure. But the core essence of this show was patriarchy zindabaad. That's the only thing that the characters of this show have 'nibhaaoed', if you ask me. In one particular scene, Kokila is announcing to the family that a very rich fam has sent a rishta for her daughter Kinjal. The Baa of the house (every Indian show has one and she lives real long) tells Kokila, that in a house that treats their daughter-in-laws as daughters, the daughter of that house is bound to find a home where they treat her well.
That made me spit the water right out of my mouth. Ummm, what? Did you not see how the bahus are being treated in the house, grandma? The daughter doesn't lift a finger to help, while the daughters-in-law keep slogging. The daughter is also forced to marry a man she doesn't want. Sure, there is a woman ruling the household with an iron fist, but she is the most classic example of toxic femininity rampant in India. Kokila at one point literally says that she brought Gopi home so she would take over the responsibilities of her son's life. Talk about putting Akshay's mom from Indian Matchmaking to shame! But Kokila did it ages ago!
The show derived entertainment for women being treated badly by men and other women. And being praised for persevering through it all. The answer, then, to Rasode mein kaun tha?, will always be women. Because oppressive patriarchy was cooking up a storm.
Masaba Is Making Her Acting Debut With Mom Neena Gupta In Netflix's Masaba Masaba. This Is The Kind Of Reality TV We Want To Watch
GET HAUTERFLY IN YOUR INBOX!