Shrey Sawant / The Hauterfly
Culture
5 Shows To Watch If You Love 'Lucifer': From 'Supernatural' To 'Castle'!
By
|
The devil made me write this, quite literally! I mean, after you've seen Tom Ellis as The Devil in Lucifer, and heard him ask about our desires in that delectable British accent, your soul belongs to him. Surrender is your only redemption. After pulling us in with Ellis' divine chemistry with Lauren German as Detective Chloé Decker (heard his voice again, dammit!), torturing us with the news of the show being cancelled, and finally landing up on Netflix, it has been one hell of a ride. Started from the bottom, now we are at Season 5 already!  Let's also not forget, that cast is a darling: Kevin Alejandro (Dan Espinoza), D.B. Woodside (Amenadiel), Lesley-Ann Brandt (Mazikeen), Rachel Harris (Dr. Linda Martin), Aimee Garcia (Ella Lopez), and the adorable Scarlett Estevez (Trixie)!
Lucifer Season 5 drops on Netflix on August 21, and the trailer already has me excited. A double dose of Tom Ellis? A Lucifer-Michael angel-off? Do you even have to ask! Speaking to EW, showrunner Ildy Modrovich said,"Tom [Ellis] makes what he does look so effortless that I think this season will remind people just how hard it is everything he does. And he plays it with very different physical mannerism and speech patterns, so it is this weird back-and-forth where he's having this weird schizophrenic conversation with himself. He's brilliant."
But it still feels a teeny bit far, no? Also, thanks to the lockdown, the Season 5 finale has not yet been shot. So we don't know if we get to the see the entire season right now or have to wait a bit. I have a feeling that once all the  episodes are watched, we're going to desperately want Season 6 (final season) STAT! And we all know that's not going to happen that soon. So what do we do until then?
Well, I thought you'd never ask! Here are five shows that I've absolutely LOVED watching, that'll just perfectly tide you over any residual devilish cravings. They've got everything, from a crime-solving pair with palpable sexual tension to sexy Satans, angel bromances, demons with honour, and women who kick ass!
1. Chilling Adventures of Sabrina
Let CAOS reign! Another Netflix presentation, Chilling Adventures of Sabrina stars a post Mad-Men Kiernan Shipka as Sabrina the teenage witch. But, her story is nothing like the happy, cheerful American sitcom version that starred Melissa Joan Hart. This one is darker, a not-so-distant cousin of Riverdale, which is also a dark take on the Archie comics-verse. But Sabrina Spellman isn't the witch in the town of Greendale; there are seers and dangerous magics, really hot schoolboys, and even a dark Hogwarts!
But more importantly, there is Satan. A glorious, adorned in a golden robe, curly-haired stunner of a Dark Lord. Played majorly by Luke Cook and in parts by the equally sexy Gavin Leatherwood, this character is as charismatic if not as 'good' as Tom Ellis' Lucifer.
Basically, if you love the whole hell, Satan, and dark magic storyline, CAOS is a delicious apple you must bite into. Sure, it is a bunch of teenagers going up against forces way stronger than them. But the story is engaging, isn't afraid to go dark and Shipka looks bomb AF while she navigates through it all. Chilling Adventures of Sabrina Part 3 dropped earlier this year, and Part 4 is slated to be its last. If you ask me, it's the perfect little thing to fit in before Lucifer arrives!
2. Supernatural
We've seen the good, British Lucifer Morningstar, and the sexy, Dark Lord Satan. Now it is time for one of my most favourite shows, which has my most favourite portrayal of the fallen angel. I don't think Supernatural, which has been around for nearly a decade and a half now (15 seasons!) needs any introduction. Mark Pellegrino's Lucifer is an absolute delight to watch because he is so… normal! While Tom Ellis' Lucifer hates his dad with a certain English charm of being cold-hearted but courteous about it, Pellegrino's Lucifer is all American rage and hate towards his absentee father.
He is funny, sarcastic, diabolical and lives in the grey area where you can never predict which side he'd swing. On several occasions, he has also aligned himself with the Winchesters (like against Amara, God's sister). I love every time he indulges in one of those banters, with Sam Winchester or the Mark Sheppard's Crowley. You want to hate him, but when he's acting like an attention-seeking petulant child, it just makes you laugh!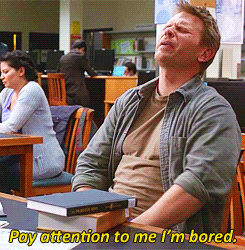 What Supernatural also has is a solid Lucifer v/s Michael storyline, which dominates the first five seasons and ends in a Swan Song (Season 5 finale title) so spectacular, it is easily one of my favourite television moments of all time. So if you want to brush up on some of that biblical sibling rivalry which is about to enter Lucifer, go ahead and watch Supernatural!
I know, 15 seasons might be too much to ask for, but with the series finale airing on November 19, you've got enough motivation to undertake this mission on Amazon Prime Video!
3. Castle
He is ruggedly handsome. She is a badass detective who catches bad guys. See, I could be talking about Lucifer here. But I could also be talking about Castle! The crime-comedy-drama series may have ended in 2016, but Richard Castle and Detective Kate Beckett's team-up is still a bestseller!
In fact, Lucifer and Chloé's meet-cute (or murder-cute) reminded me so much of the pilot of Castle, 'Flowers For Your Grave', where Stana Katic's detective and Nathan Fillion's mystery writer Rick Castle find themselves working on a case together, much to the detective's displeasure. But as was with Ellis and German, the chemistry between Fillion and Katic was through the roof.
Even now, I maintain that Richard Castle is my soulmate, so take my word on this. Castle has 8 seasons' worth of a sexy leading crime-solving pair who aren't cheesy but funny and sassy, and plenty of interesting cases and lots of heart!
4. Good Omens
As both Lucifer and Supernatural will prove to you, angels and devils make for some pretty engaging storylines. And Good Omens comes from the same creator whose work on DC Comics' The Sandman inspired Lucifer! This is a six-episode miniseries adapted from Neil Gaiman and the late Terry Pratchett's 1990 novel, Good Omens: The Nice and Accurate Prophecies of Agnes Nutter, Witch. It's again, biblical, and features an angel and demon uniting, despite the heaven and hell of it all, to hide the anti-christ so as to avoid the apocalypse. Why? Because they like the world as it is and want to enjoy it.
They start off as being reluctant allies at the beginning of Creation, but eventually, there's more than just a partnership there. Michael Sheen as the cute angel Aziraphale and David Tennant as the sexy demon Crowley, now that's a chemistry you do not want to miss, I swear! Their off-screen camaraderie translates so well on-screen, and their banter is one of the highlights of the show.
Good Omens, which was dropped on Amazon Prime Video in May last year, also has an incredible cast—Adria Arjona, Miranda Richardson, Michael McKean, and Jack Whitehall, with Jon Hamm playing the archangel Gabriel. If that's not enough, there's Frances McDormand as the voice of God, which is epic to have a woman voice an entity that has always been referred to as 'He'! Ariana Grande was right, God is a woman! Oh, and did I mention, Satan is voiced by none other than Benedict Cumberbatch?
Yeah, go watch it. You'll be done like thrice before Lucifer Season 5 comes out!
5. Angel
He is no angel. He is a vampire with a soul (most of the time). But that conscience is what makes this David Boreanaz character almost angel-like. And does it count that he acted as Buffy The Vampire Slayer's guardian angel for a long time in the show? I have dual reasons to add Angel to the list. First, while he isn't exactly the devil, a soul-less Angel can unleash hell in anyone's life. Much like Lucifer, he also teams with a bunch of his friends to solve crimes. And second, asking you to watch Angel means you'll by default have to watch Buffy first, and that is a total win for me, because Sarah Michelle Geller's Buffy is one of the best female fictional heroes of our time!
She can show you how to slay a vampire while looking super hot and throwing around her sass. But she can also teach you a thing or two about self-respect in relationships and how to deal with the complicated ones. Buffy and Angel's relationship is a lot like what Chloé and Lucifer have; an undeniable attraction but a prophecy that keeps them apart!
Both Buffy and Angel were created by Joss Whedon, so you know they're good. In fact, there's a sizeable chunk of the fandom that believes Angel is a shade better than the show it is a spin-off of. So that's a double-whammy you definitely want to watch.
Bonus:  Bones!
Okay, so I was feeling generous. And since we're already talking about what a total snack David Boreanaz is, how could we not talk about Bones, eh? The 2005 crime procedural drama ended in 2017, with 12 seasons, so there is no waiting around. You can binge all episodes! The show is headlined by Emily Deschanel, who plays Dr. Temperance Brennan, a forensic anthropologist working with the FBI to solve cases that involve human remains. Her sort-of partner is FBI Special Agent Seeley Booth, played by Boreanaz, and once again, guys, we have chemistry. I repeat, we have chemistry! I mean, what is it about crime-solving duos, right?
Now, returning to hell. As you might be aware, Lucifer was picked up by Netflix after it was cancelled at the end of Season 3, for two seasons so the fans could get a proper ending. Which means Season 5 was supposed to be its last. However, Netflix asked the showrunners if they could add just one more season, and they said yes! Considering Season 5 was written as a final act, some of the show's boldest, most experimental episodes (including a musical and a black-and-white flashback) will be part of this upcoming season.
Seriously, get the hell here fast, Season 5!
GET HAUTERFLY IN YOUR INBOX!