Mansi Shah / The Hauterfly
Culture
20 Years Of Gilmore Girls: Where This Show Leads With Life Lessons, We'll Still Follow!
By
|
I've often felt that things and people come into your life at certain times for a reason. In my case, this holds true for the books, movies and tv shows I watch as well. For example, This Is Us had been on air for almost two seasons before I got around to watching it. But when I did, it helped me get catharsis over the passing of a loved one. Similarly, when I was in dire need for some warm, comforting hugs and a reminder of what strong women can do with the right support system, I was blessed with the good sense of binging Gilmore Girls. I'll admit, the pull was a This Is Us hangover and the need to watch a young Milo Ventimiglia (Jess), as well as a young Jared Padalecki (Dean), who is the star of Supernatural, possibly my most favourite show ever. But while I came for the cute boys, I stayed for Lorelai (Lauren Graham) and Rory's (Alexis Bledel) mother-daughter bond, the female friendships, the cosy town dynamics of Stars Hollow, and Amy Sherman-Palladino's witty, pop-culture infused writing.
Oh, and of course, the unabashed consumption of coffee and food!
Today, October 5, marks 20 years since the first ever episode of Gilmore Girls aired on TV. I still recall the first glimpse of the cute little town in Hatford, Connecticut, called Stars Hollow! You gotta admit, it was quite impossible to imagine that Lorelai could afford a home and her lifestyle in that town on her Independence Inn keeper's salary. Or that the town could afford all those amazing little events even though its residents weren't exactly big shots. But hey, we'll let that pass. The moment Lauren Graham's Lorelai gets told off by Luke for wanting a fifth cup of coffee in the morning…. And the way Rory and Loreloi deal with the guy who hits on them both at Luke's Diner…! I knew I was going to enjoy Gilmore Girls!
The pilot introduced us to a majority of the main characters. Lorelai's rich parents, Emily and Richard Gilmore. Rory's BFF Lane Kim and her antiquities-selling orthodox mom, Mrs. Kim. The school boy Rory crushes on, almost considers not going to the fancy prep school, Chilton, for, and eventually dates, Dean Forester. Lorelai's BFF and head chef at the Independence Inn, Sookie St. James. The sharp-tongued and polished French concierge whose banter with Lorelai and everyone else at the Inn is the highlight of some episodes, Michel Gerard. We even catch a glimpse of Alex Borstein, Emmy Award winning star of another Amy Sherman-Palladino production, Marvelous Mrs. Maisel, as the rather savage but 'great' harpist, Drella!
In fact, the first episode of Gilmore Girls is perfection in so many ways because of all the themes it touches on! Young love and the life decisions that you might make because of it that you'd regret later. How difficult it can be to be a single parent. How, sometimes, parents are too proud to just express their true feelings, and will use tactics to get their children to do things their way. How, despite your own troubles, you must always, always cheer for your friend's happiness! And of course, no matter what the question is, coffee is always the answer!
Two decades and seven seasons + a truncated special nostalgia season later, Gilmore Girls continues to hold life lessons that are still gold. They're like the cup of hot coffee on a chilly, winter morning, that'll always give you comfort, like Rory's white Mumu from the pilot! Or a conversation at Luke's Diner!
20 years ago today the very first episode of Gilmore Girls graced our screens. pic.twitter.com/a2p6tuEUup

— Netflix (@netflix) October 5, 2020
Let's recap a few lessons, shall we?
1. Lorelai Gilmore taught Rory and the rest of us women to be unabashed in our love for food.
I LOVE the way Lorelai Gilmore thinks about food. Gilmore Girls had a lot of scenes set around meals or food, from Lorelai and Rory's movie nights full of snacks, Luke's Diner, the fancy dinner at the Gilmores and even Sookie's character being a chef. But what I truly thought to be refreshing is how the women approached the food in the most real way, and not in a way that society usually thinks women think about food.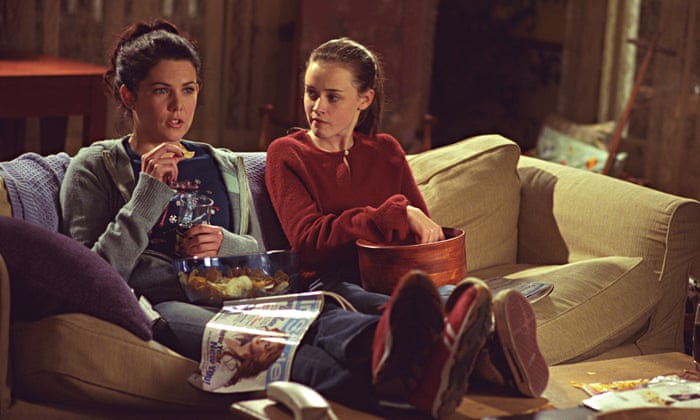 Okay, I know the complaints about food wastage and unhealthy calorie intake, not to mention, the harmful effects of all that coffee consumed! But I'm just saying, it was fun to watch the Gilmore Girls be absolute hogs, without a care for carbs or their waist sizes!
2. Your wit and great pop-culture references can get you out of the most awkward conversations!
Obviously, Amy Sherman-Palladino is a pro at infusing pop-culture references all through the episodes. In the first episode itself, there were references to Jack Kerouac, Moby Dick, and a bunch of other things that made me instantly relate to the characters. That's actually how real people talk! Constantly spouting quotes, dialogues and phrases from the things they're exposed to, like movies, books, music, and so on.
Another highlight of the show is, of course, Lorelai's sharp wit, which she passes on to Rory, and can also be seen as shared by other characters like Michel and Emily. Full props to the writers and creators for making every conversation tickle our funny bones without seeming too goofy or slapstick. I enjoyed how Lorelai got through most of the awkward conversations with her parents or even her ex-husband and other townsfolk because she was hilarious!
3. Female friendships don't have to be shallow or toxic.
Name a better BFF duo than Lorelai Gilmore and Sookie St. James! Or for that matter, even the friendship between Rory and Paris! I watched Gilmore Girls at a time when I needed a reminder that you could have just that one good girl friend by your side, and you could get through almost anything. Sookie was always there for Lorelai, and treated Rory like her own daughter/friend. As for Lorelai, despite being a boss to Sookie, and eventually a business partner, never let their work affect their friendship.
Which brings me to….
4. Gilmore Girls taught me an important lesson on balancing friendships and business.
The thing about small towns is, everyone has known everyone forever. And you have to admit, the way Lorelai handles her relationships with the townsfolk, particularly Sookie and Michel, who are her employees but also her friends, is a lesson in how to tread that thin line. There's lots of witty repartee and banter, and yes, some friendly jibes and asking for huge favours too. But the comfort level that they've all established is something to covet!
5. Sometimes, a child needs a friend. Sometimes, a child needs a parent. But what a child always needs is a support system.
I love that Lorelai always treated Rory as her own person, and respected most of the decisions she made. In fact, in the pilot episode itself, she points out how Rory is the smart one amongst them, and how their family of two has always been a democracy. Meaning that she rarely pulls out the 'Mom' card, and trusts Rory's judgement. It's one of the biggest positive reinforcements that shape Rory into the woman she becomes by the end of the show. And she knows that she's a lot like her mother, and she's proud of it.
However, there are instances when Rory needs Lorelai to be her mother. And that's true for the other parent-child relationships in the show as well. Such as the one between Luke and his nephew Jess, or when Lorelai insists that Rory not throw away her future at Chilton for a boy, and she's right. Even when Lorelai needs support, financial it may be, she goes to her parents, and it is huge deal that they support her, instead of turning her away because she ran away from home. I mean, sure, Emily Gilmore puts forth conditions, but there's a big lesson to learn from that too!
6. Parents can make mistakes too. It's harder for them to admit them, because of pride.
Gilmore Girls begins with a proposition that nobody likes. Lorelai and Rory are forced into dinner with the Gilmores in exchange for her Chilton tuition fees. And it might seem like Emily Gilmore was quite the opportunist. But I've always thought the Gilmores' problem was one that all parents have—too much parental pride. Their conventional upbringing didn't allow them to wear their emotions on their sleeve, much like, say, Lorelai would. And therefore, they resorted to all these little tricks to get close to their grandchild.
Eventually, you'd feel nothing but love for Emily and Richard!
7. Find a love that challenges you to be better, but also gives you comfort.
The question of who's the better boyfriend for Rory is one of the most debated ones in pop-culture! Dean, Jess or Logan? While mommy Lorelai went for the familiar diner owner who breeds comfort and who always had a candle burning for her, the decision hasn't been that easy for Rory, has it?
While Dean clearly was her first love and a source of friendly warmth and comfort, Jess was the one who riled her up, but in a good way. As for Logan, oh well, you see the appeal, right? He challenged her from the start, but unlike Jess, he was a tad more emotionally and physically available for Rory. At the end of Gilmore Girls: A Year In The Life, Rory is still considerably single, (and pregnant) so the debate is still open! But if I have learnt anything from the show, it is that you love someone who challenges you, sure, but who's there for you no matter what. I'm slightly partial to Jess, and think he deserves a second chance. But hey, Logan could have a few moves up his sleeve that might change my mind!
8. Listen to your heart, always.
It's one of the pivotal themes of Gilmore Girls, isn't it? It's always about trusting your instinct and going for it. Lorelai Gilmore did it. And while her life at Stars Hollow wasn't exactly a starry ride, she raised Rory as a fine young woman, ran a successful business, found true love, and we're hoping, is living happily, simply because she never shied away from following her heart.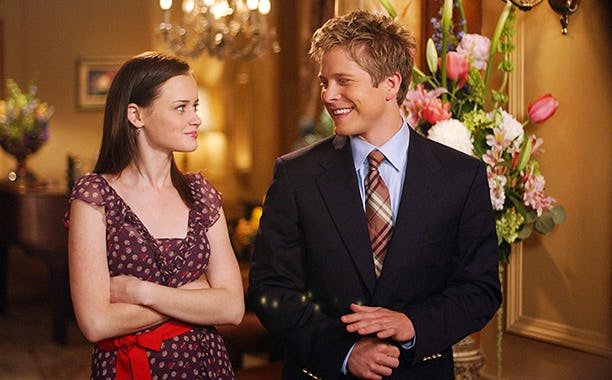 9. Community is so important.
I wanted to live in Stars Hollow so bad! The people were nice, they had these community meetings and quaint little traditions and events! Cute guys swung by! I mean, it wasn't bad at all! But what I loved the most was how the town was always considerate, and came together to support one another. Yes, even Tyler Doose, when it counted! I think Lorelai was able to raise Rory the way she did because every person she met at Stars Hollow, from the owner of the Independence Inn that gave her her job to Miss Patty and Lorelai's neighbour, Babette, and of course, Luke and Sookie, they all supported her when she needed them.
10. What a woman can do when she has a solid support system!
Which brings me to the final lesson, which is the capstone on this pyramid of life lessons built on Gilmore Girls episodes. And that is, how a solid support system in the form of a parent, grandparent, community or friend can be so pivotal in letting a woman live a fulfilling life.
No matter how difficult things get, Lorelai and Rory are always there for each other. And even when they aren't, it is the relationships that they've built around them that offer them the support they need that makes all the difference.
If you ever need a warm, comforting dose of the good life and some great female characters, make yourself a vat of coffee and watch Gilmore Girls! You'll be grand!
GET HAUTERFLY IN YOUR INBOX!