Christopher Miranda/ Hauterfly
Beauty
These DIY Tips To Remove A Tan Will Help You Get An Even Skin Tone Naturally!
By
|
No matter what we do, there is no escaping the sun! Indian summers being especially hot and harsh make it no easier on us.  From covering every inch of our exposed skin with sunscreen to turning into literal thugs in scarves while riding, desi ladies do the most to avoid getting too much sun. While we do need to get some sun (except between 11 am to 3 pm) for our Vitamin D fill, excessive exposure can lead to tanning, peeling and even long term damage. While we can only somewhat control the amount of sun exposure, we can very well fix its adverse effects.
FYI, while sunscreens do afford a lot of protection to our skin from UVA and UVB rays, they only work if properly used. For instance, a wide spectrum sun shield will work better on brighter days than a higher SPF. Also, it is recommended you slather on sunscreen at least 45 minutes before stepping out of the house for it to actually work. This has to be followed by reapplication, every time we feel necessary. Fans of spray-on sunscreens, give us a cheer!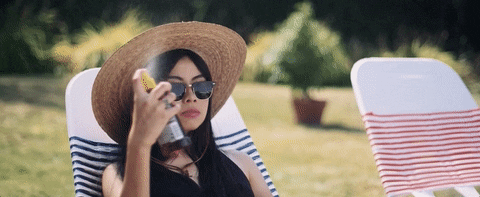 Having said that, it is not always possible to protect our skin from sun exposure and damage. The way one's skin tans varies from person to person. Some people tan very easily, which can end up being visible prominently on our skin for months. For some, tanning is not an issue and it also disappears very easily. But no matter what kind of tanning personality one has, there are always some fabulous DIY tricks we can resort to help speed up the de-tan process.
DIY Masks
The most common concern women have is how to remove tan from the face. Indian women, especially, have long been heavily reliant on homemade masks and 'maa ke nhuske' for most of their skin needs. Granted these DIY techniques take time to work, but they are also the most natural and go-to answer for getting rid of the various shades you're sporting. A well-made homemade mask is easy to make and apply. Ingredients like lemon juice, honey, turmeric, papaya, aloe vera, tomato juice, and yogurt make for great masks. They can also be mixed with different recipes to focus on targeted issues. There are many recipes available to us to try experiment with. But is it the right way to go for everyone? 
The trick is to do a patch test of DIY masks in order to eliminate any possible allergies one might have to these natural ingredients. Also, overindulging and repeating them every day can dry out the skin so patience is key when taking the DIY route to tan removal!
DIY Scrubs
DIY face masks work on our skin very gently. For women who are in need of some heavy-duty tan removal, we would suggest the homemade scrub instead. We have the age-old sugar scrub, which when mixed with ingredients like honey and tomato juice can make for a great pre-shower ritual. Especially when faced with the question of "how to remove tan from hands", a scrub can go leaps beyond your usual paste or mask. Kitchen staples like masoor dal, oatmeal, sandalwood powder, and wheat flour can all be used to create amazing scrubs and frankly, we want to try them all!
Tan Removing DIY Peels
A word of caution for the lazy girls, we are stepping into dangerous territory with this one. While there are many peel-off masks available in the market, most are ill-suited for women with sensitive skin. These masks can sometimes irritate and even "peel off" a thin layer of their skin itself. A homemade peel-off mask, while more complicated to make, can bridge the gap. It only makes sense to try a peel off mask, given that these kind of masks are great to remove the discoloured and dead skin to reveal an even-toned complexion. The secret behind a great DIY peel-off mask is gelatin powder. When mixed with ingredients like pineapple juice, lemon juice, milk, glycerin, Patanjali aloe vera gel, and orange juice, you get a mask that will do the job and do it well.
The DIY Pastes
We are all aware of fabulous benefits of multani mitti , which can also be used as a tan removal cream. Homemade pastes are especially beneficial for women with dry skin, who cannot afford to have their skin stripped of moisture with drying masks. The way to make them best suited for dry skin is to keep applying a thin layer of milk every time the paste feels dry. Clay pastes are also a good idea, they can be hydrating while still taking care of a tan. Other ingredients like cucumber, strawberries, milk cream, pineapple pulp, saffron, almonds, cornmeal, and rosewater make for amazing de-tan pastes with fuller's earth. 
The DIY Rubs
The memory of our grandmothers putting us in a thigh lock and rubbing our arms and legs with besan is still quite fresh in our memories. While that aggression was justified as necessary means to get dirty children clean, it also can help you bid adieu to your Goa skin. Skin rubs, at least twice a week, work great as exfoliants to shed dead skin and make our blood vessels come alive. They also come in handy when we are on a de-tan binge. Homemade rubs made of turmeric, potato, coconut shavings, powdered bitter gourd, green tea and much else afford many benefits to the skin. When done regualrly and followed up with a good moisturizer, these rubs can work great on our face, necks, and hands. Just be sure to do it in the loo to avoid the mess from shedding!
Let us know in the comments what other skin issues you would want to discuss with us!
Skincare Expert Gives You The Lowdown On Surprising Monsoon Skincare Mistakes You Could Be Making
10 Skin Creams That Have Stood The Test Of Time With Indian Women And Why We Love Them!
GET HAUTERFLY IN YOUR INBOX!